The Fall and Rise of the Amir Sisters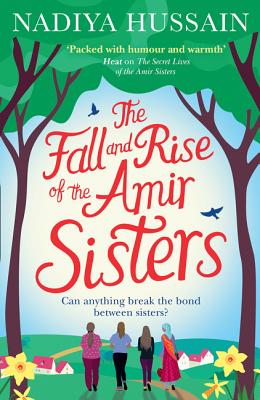 The Fall and Rise of the Amir Sisters
Unavailable
'Funny, warm and uplifting' OK magazine'Enriching, thought-provoking' Independent'A great read' Bella'An enriching and thought-provoking read.' Independent 'Warm and witty' S Mag
************************************************************
Heart-warming storytelling with strong themes of sisterhood from nation's favourite and former Bake Off winner Nadiya Hussain, this is Little Women meets Marian Keyes' Walsh family series for a new generation of readers.
The four Amir Sisters - Fatima, Farah, Bubblee and Mae - are as close as sisters can be but sometimes even those bonds can be pushed to their limits . . .
Becoming a mother has always been Farah's dream so when older sister Fatima struggles with a tough pregnancy whilst Farah has trouble conceiving she cant help but be jealous. Until a plan to break a huge cultural taboo in her family, and use a surrogate gives her a renewed hope. But nothing is ever that easy in this warm, witty look at a modern British family.
************************************************************
What readers are saying about the Amir sisters:
'Utterly brilliant'
'Heartfelt and emotional'
'Life-affirming'
'Another fabulous read from this multi-talented author'
Over 14 million people tuned in to see Nadiya win 2015's Great British Bake Off. Since then she has captured the heart of the nation. A columnist for The Times and Essentials, Nadiya is also a regular reporter for The One Show and presented a two part series, The Chronicles of Nadiya on BBC One. She is the author Nadiya's Kitchen (Michael Joseph), Bake me a Story (Hodder) and has been named as one of the top five most influential Asians in the UK.
ISBN: 9780008192310
ISBN-10: 9780008192310
Publisher: HQ
Publication Date: 01/24/2019 - 12:00am
On Sale: 03/26/2019 - 12:00am
Pages: 352
Language: English
Categories