Space Science: Band 7/Turquoise (Collins Big Cat Phonics)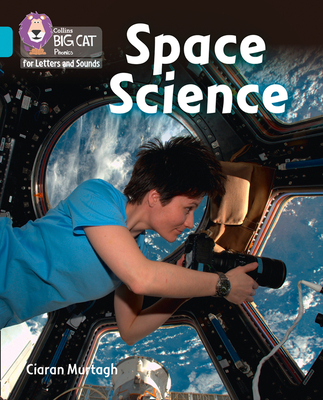 Space Science: Band 7/Turquoise (Collins Big Cat Phonics)
Collins Big Cat Phonics for Letters and Sounds features exciting fiction and non-fiction decodable readers to enthuse and inspire children. They are fully aligned to Letters and Sounds Phases 1–6 and contain notes in the back. The Handbooks provide support in demonstration and modelling, monitoring comprehension and expanding vocabulary.

How does the body react to being in space? Do roses smell differently in orbit? Have any discoveries in space helped us back on Earth? Find out all about space scientist astronauts and the fascinating experiments they have conducted from space in this information book by Ciaran Murtagh.

Turquoise/Band 7 books offer literary language and extended descriptions, with longer sentences and a wide range of unfamiliar terms.

Pages 22 and 23 contain a fun I Spy Letters and Sounds activity, which uses visual support to help children embed phonic knowledge.

Reading notes within the book provide practical support for reading Big Cat Phonics for Letters and Sounds with children, including a list of all the sounds and words that the book will cover.
ISBN: 9780008251819
ISBN-10: 9780008251819
Publisher: Collins
Publication Date: 04/01/2018 - 12:00am
On Sale: 04/01/2018 - 12:00am
Pages: 24
Language: English
Categories