Tears of a Class Clown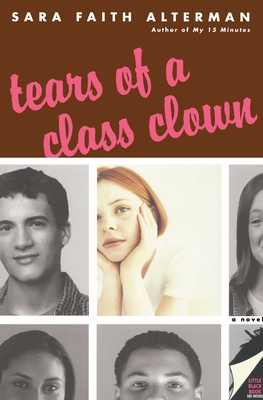 Tears of a Class Clown
Out of Stock In Store (Click to Order)
Have you ever suffered from FUNNY GIRL SYNDROME? Are you the gal who makes people laugh? Are you considered "a lot of fun" and "a good sport"? Do all your male friends bring you their troubles and ask for your advice––about their girlfriends? If so, you will relate to Nina––a wry, hip, hilarious gal who is sure to make you laugh.
Nina has a roommate who showers with her cat. Nina has a college education she hasn't used. And Nina has waited tables at Bellyaches Comedy Den in Boston for way too long... She's heard it all: mother jokes, sister jokes, chick jokes, and fat jokes. And then some. She's served beer to half–broke hipsters, drinks to businessmen with bad dates, and occasionally hears something truly hilarious.
But what Nina hides from the world is that she is FUNNY. Because she has suffered in the past from Funny Girl Syndrome––you know, she makes you laugh but you won't take her on a date. But all that's about to change, because it's high school reunion time. And there's nothing like facing a gym–full of people you knew back ten years ago to make you want to pull up your socks and shine.
Sara Faith Alterman is a regular feature writer for NewEnglandFilm.com, and is the associate director of distribution of BuyIndies.com, an independent film catalog. Since studying film theory at the University of Rochester and comedy writing with Second City, Sara has written sketch comedy for ImprovBostson and has had her work featured in publications, including The Independent, Carolina Woman magazine, and the Discovery Network's Great Chefs magazine. Sara lives in Boston, is working on her next novel, and hates writing about herself in the third person.
ISBN: 9780060755928
ISBN-10: 9780060755928
Publisher: William Morrow Paperbacks
Publication Date: 08/29/2006 - 12:00am
On Sale: 08/29/2006 - 12:00am
Pages: 256
Language: English
Categories