Poder de Mujer: Transforme a Su Hombre, Su Matrimonio, Su Vida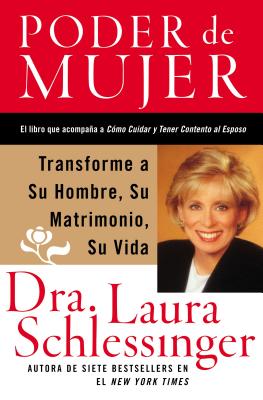 Poder de Mujer: Transforme a Su Hombre, Su Matrimonio, Su Vida
Out of Stock In Store
La reacción que provocó el séptimo bestseller de la Dra. Laura Schlessinger, Cómo Cuidar y Tener Contento al Esposo, comprobó lo mucho que le ha ayudado a miles de lectores a mejorar sus matrimonios y a salvar aquellos que estaban al borde del divorcio. A raíz de los comentarios y las opiniones de sus lectores y oyentes que querían saber más acerca del poder especial que tienen las mujeres para transformar a sus esposos, sus matrimonios y sus vidas, la Dra. Laura decidió escribir Poder de Mujer. En Poder de Mujer, el libro que acompaña a Cómo Cuidar y Tener Contento al Esposo, la Dra. Laura les explica a las mujeres cómo evaluar lo valioso y lo frágil en sus matrimonios a través de una serie de innovadoras preguntas, incitándolas a reflexionar acerca de lo que es realmente importante de ser mujer, esposa y madre. En su libro, la Dra. Laura comparte inspiradoras historias, consejos y cartas al igual que una serie de preguntas para contestar en pareja y hasta algunas páginas en blanco para anotar sus pensamientos. Poder de Mujer le ayudará a poner en práctica y reforzar las ideas y los conceptos fundamentales que ofrece la Dra. Laura en Cómo Cuidar y Tener Contento al Esposo para transformar su vida y la de su familia en una experiencia llenadora y espiritual.
One of the most popular hosts in radio history—with millions of listeners weekly—Dr. Laura Schlessinger has been offering no-nonsense advice infused with a strong sense of personal responsibility for more than 40 years. Her internationally syndicated radio program is now on SiriusXM Triumph Channel 111, and is streamed on the Internet and podcast.
She's a best-selling author of eighteen books, which range from the provocative (New York Times chart topper The Proper Care and Feeding of Husbands) to the poignant (children's book Why Do You Love Me?).  She's on Instagram and Facebook (with over 1.7 million followers), and her Call of the Day podcast has exceeded one hundred million downloads. She has raised millions for veterans and their families with her boutique, DrLauraDesigns.com, which benefits the Children of Fallen Patriots Foundation.
Dr. Laura holds a Ph.D. in physiology from Columbia University's College of Physicians and Surgeons, and received her post-doctoral certification in Marriage, Family, and Child Counseling from the University of Southern California. She was in private practice for 12 years. She has been inducted into the National Radio Hall of Fame, received an award from the Office of the Secretary of Defense for her Exceptional Public Service, and was the first woman ever to win the National Association of Broadcasters' prestigious Marconi Award for Network/Syndicated Personality.