Truly Devious: A Mystery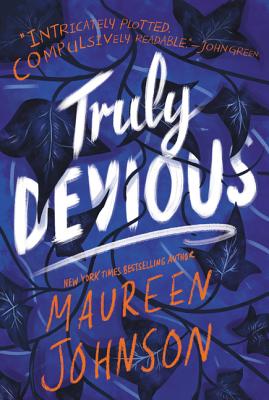 Truly Devious: A Mystery
Likely On Our Shelves
New York Times bestselling author Maureen Johnson weaves a delicate tale of murder and mystery in the first book of a striking new series, perfect for fans of Agatha Christie and E. Lockhart.
Ellingham Academy is a famous private school in Vermont for the brightest thinkers, inventors, and artists. It was founded by Albert Ellingham, an early twentieth century tycoon, who wanted to make a wonderful place full of riddles, twisting pathways, and gardens. "A place," he said, "where learning is a game."
Shortly after the school opened, his wife and daughter were kidnapped. The only real clue was a mocking riddle listing methods of murder, signed with the frightening pseudonym "Truly, Devious." It became one of the great unsolved crimes of American history.
True-crime aficionado Stevie Bell is set to begin her first year at Ellingham Academy, and she has an ambitious plan: She will solve this cold case. That is, she will solve the case when she gets a grip on her demanding new school life and her housemates: the inventor, the novelist, the actor, the artist, and the jokester.
But something strange is happening. Truly Devious makes a surprise return, and death revisits Ellingham Academy. The past has crawled out of its grave. Someone has gotten away with murder. 
The two interwoven mysteries of this first book in the Truly Devious series dovetail brilliantly, and Stevie Bell will continue her relentless quest for the murderers in books two and three.
Publishers Weekly Best Books of 2018 * Junior Library Guild Selection * 2019 YALSA Best Fiction for Young Adults Nomination * 2019 ALA's Best Fiction for Young Adults Nomination * Chicago Public Library Best of the Best Books 2018 * Goodreads Choice Award Nominee for Young Adult Fiction 2018 * 2018 Nerdy Book Club Young Adult Winner * Seventeen Best YA Book of 2018 * Lincoln Award Nominee * 2020-2021 South Carolina Book Awards Nominee * 2020 Pennsylvania Young Readers' Choice Award Winner
Maureen Johnson is the bestselling author of several novels, including 13 Little Blue Envelopes, the Truly Devious series, the Suite Scarlett series, and the Shades of London series. She has also written collaborative works such as Let It Snow with John Green and Lauren Myracle and The Bane Chronicles with Cassandra Clare and Sarah Rees Brennan. Maureen lives in New York and online on Twitter @maureenjohnson or at www.maureenjohnsonbooks.com. 
by Abby
Fri, 05/29/2020 - 1:31pm
I love young adult mystery—it's mystery without all the gore, with protagonists that aren't hardened detectives. It won't keep me up all night in fear, but it will keep me intrigued and intent on solving the puzzle myself - and sometimes that's much preferable.Truly Devious is one of my favorites from recent memory. In it, two crimes that happened 80 years apart are linked by the same prestigious boarding school, and the same signature at the scene: "Truly, Devious." Stevie Bell is a true crime aficionado who goes to the school for the sole purpose of solving the cold case that occurred there almost a century ago. But when someone kills one of her classmates and links it to the original crime, she finds that she might be the most qualified person to solve both cases once and for all. Everything becomes a lot more real, and much more dangerous.