Dear Thief: A Novel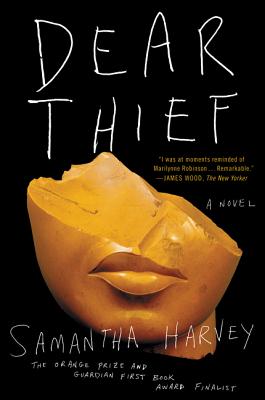 Dear Thief: A Novel
On Our Shelves Now
From acclaimed Orange Prize and Guardian First Book Award finalist Samantha Harvey, a stunning novel of female friendship, betrayal, and revenge
"You were going to work your way into my marriage and you were going to call its new three-way shape holy," writes the unnamed narrator of Dear Thief.
The thief is Nina, or Butterfly, who disappeared eighteen years earlier and who is being summoned by this letter, this bomb, these recollections, revisions, accusations, and confessions.
"Sometimes I imagine, out of sheer playfulness, that I am writing this as a kind of defence for having murdered and buried you under the patio."
Dear Thief is a letter to an old friend, a song, a jewel, and a continuously surprising triangular love story. Samantha Harvey writes with a dazzling blend of fury and beauty about the need for human connection and the brutal vulnerability that need exposes.
"While I write my spare hand might be doing anything for all you know; it might be driving a pin into your voodoo stomach."
Dear Thief is a rare novel that traverses the human heart in a striking and indelible way.
Samantha Harvey has published two novels, The Wilderness and All Is Song. She has been short-listed for the Orange Prize for Fiction and the Guardian First Book Award, and long-listed for the Man Booker Prize. She has also won the AMI Literature Award and the Betty Trask Prize. One of The Culture Show's 12 Best New British Novelists, she has contributed to Granta (print and online), has held a fellowship at the MacDowell Colony, and is a member of the Academy for the Folio Prize. She lives in Bath, England, and teaches creative writing in the master's program at Bath Spa University.
ISBN: 9780062415844
ISBN-10: 9780062415844
Publisher: Ecco
Publication Date: 04/07/2015 - 12:00am
On Sale: 04/07/2015 - 12:00am
Pages: 272
Language: English
Categories