Everyday Ubuntu: Living Better Together, the African Way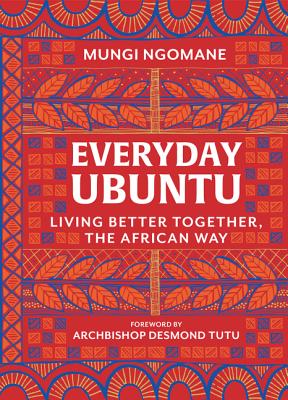 Everyday Ubuntu: Living Better Together, the African Way
Out of Stock In Store
Foreword by Archbishop Desmond Tutu
Mungi Ngomane, granddaughter of Nobel Peace Prize–winner Archbishop Desmond Tutu, offers an introduction to ubuntu, the Southern African philosophy that celebrates the universal human bond in this beautiful definitive guide, illustrated with full-color photos and filled with lessons on how to live harmoniously with all people.

"This book will open your eyes, mind and heart to a way of being in the world that will make our world a better and more caring one.—Archbishop Desmond Tutu
Ubuntu is a Xhosa word originating from a South African philosophy that encapsulates all our aspirations about how to live life well, together. It is the belief in a universal human bond: I am only because you are. And it means that if you are able to see everyone as fully human, connected to you by their humanity, you will never be able to treat others as disposable or without worth. By embracing the philosophy of ubuntu and living it out in daily life it's possible to overcome division and be stronger together in a world where the wise build bridges, not walls.
These 14 lessons from the Rainbow Nation are an essential toolkit to helping us all to live better, together. In stories that recognize our common humanity, our connectedness and interdependence, Everyday Ubuntu helps to make sense of the world and our place in it. Exploring ideas of kindness and forgiveness, tolerance and the power of listening, it shows how we can all benefit from embracing others. Including practical applications and mindful exercises, it is an inspirational guide to a more fulfilling life as part of the large family to which we all belong.
Mungi Ngomane is the granddaughter of Archbishop Desmond Tutu and patron of the Tutu Foundation UK. Mungi has never felt that her family forced her to follow in their footsteps but that their hope for justice and human dignity for all was passed down through her genes. She has worked in Middle East conflict resolution and for the advancement of women and girls for some of the world's foremost advocacy organizations and initiatives. She was recently campaign coordinator for a new national and bipartisan campaign, Millions of Conversations, aimed at tackling Islamophobia and discrimination in the U.S. After she has brought Everyday Ubuntu into the world, she plans to return to NGO advocacy and program management. She is passionate about human rights, specifically the advancement of women and girls, the protection of refugees and the liberation of the Palestinian people. She hopes one day all girls will have FUNdamental human rights. She has a Master's in International Studies and Diplomacy from the School of Oriental and African Studies (SOAS) at the University of London.