Beijing Rules: How China Weaponized Its Economy to Confront the World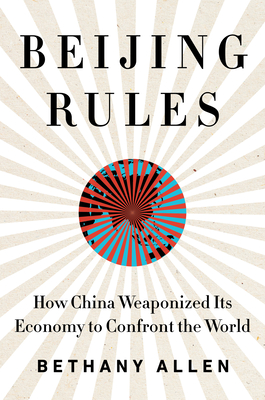 Beijing Rules: How China Weaponized Its Economy to Confront the World
Pre-Order (Not Yet Published)
One of the most acclaimed journalists on contemporary China lays bare the country's two decade quest for global dominance and how the Chinese Communist Party coopted what Western leaders have long considered their most powerful tool in the fight for liberal democracy—capitalism—to expand their influence worldwide.
Beijing Rules is a superb expose which reveals how China learned to master capitalism which it now wields in its own authoritarian form to achieve global dominance. As Bethany Allen, the China reporter for Axios, reveals, the long-standing belief that free-trade capitalism is a democratizing force—the assumption underlying much of American and Western policy since World War II—is demonstrably false. Capitalism is actually a two-way street: if democratic values can travel in one direction, authoritarianism can travel in the other. The Chinese Communist Party (CCP) has successfully engineered what Cold War champions believed to be impossible: an unabashedly Communist Party leading a prosperous capitalist state. 
Written by the first American journalist to expose covert Chinese influence operations in the United States, Beijing Rules includes headline-making stories of western institutions bowing to Beijing's coercion—a glimpse of what American's future might look like should liberal democracy come firmly under the thumb of authoritarian capitalism. Grounded in deep investigative reporting, it sounds the alarm about what we must do to prevent the loss of freedoms we now take for granted. 
Bethany Allen is the China reporter at Axios. She previously worked as the lead reporter for the International Consortium of Investigative Journalists' China Cables project, as a national security correspondent for the Daily Beast, and as a reporter and editor at Foreign Policy magazine. 
ISBN: 9780063057418
ISBN-10: 9780063057418
Publisher: Harper
Publication Date: 08/01/2023 - 12:00am
On Sale: 08/01/2023 - 12:00am
Pages: 416
Language: English
Categories
Political Science / World / Asian