Man Enough \ Lo suficientemente hombre (Spanish edition): Cómo desdefiní mi masculinidad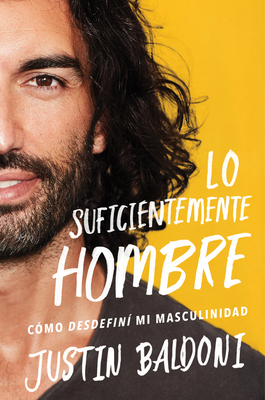 Man Enough \ Lo suficientemente hombre (Spanish edition): Cómo desdefiní mi masculinidad
Out of Stock In Store
«Ser "lo suficientemente hombre" es mirar hacia nuestro interior, entender y redefinir la masculinidad para así crecer como seres humanos.» —Jaime Camil
Las consecuencias de la masculinidad tradicional nos afectan en todas las áreas de nuestras vidas. No sólo las sufren las mujeres, sino también nuestros amigos, familiares, compañeros y, sobre todo, nosotros mismos.
También han afectado a Justin Baldoni, que ha decidido explorar algunas de las facetas más importantes de la experiencia masculina —el valor, el éxito, la raza, la sexualidad, las relaciones o la paternidad— para entender cómo la concepción social de «ser un hombre» nos hace daño y limita. Sus reflexiones y vivencias abren un debate en el que podemos descubrir y curar nuestras heridas más profundas para, por fin, decidir libremente qué clase de hombre queremos ser.
Este es un testimonio íntimo que nos invita a explorar nuestra propia vulnerabilidad, a emprender nuestro propio viaje entre nuestra cabeza y nuestro corazón. Estas páginas son el camino en el que recordarás que eres suficiente tal como eres.
«"Lo suficientemente hombre" puede ser el primer gran paso de tu sanación y, con ella, la del resto de hombres, mujeres y niños en tu vida.» —Eugenio Derbez 
Justin Baldoni es actor, director, fundador de Wayfarer Studios y de Wayfarer Foundation y, ante todo, un devoto bahá'í. Además de su conocido papel coprotagonista en la serie Jane the Virgin, Justin ha pasado la última década explorando, entendiendo y cambiando lo que significa ser un hombre. Esto le llevó a impartir su famosa charla TED, producir el programa Man Enough y, ahora, a escribir este libro.
Justin Baldoni is a devoted husband, father of two, and Bahá'í. He is an actor, director, producer, and the co-founder and co-chair of both Wayfarer Studios and the Wayfarer Foundation. Over the last ten years, Justin has been on a journey to explore masculinity and reimagine what it means to be a man—what it means to be a human—in the world today. He has spoken about his journey with masculinity in his wildly popular TED talk, and his digital series "Man Enough", as well as on college campuses across America.