Automation Airmanship: Nine Principles for Operating Glass Cockpit Aircraft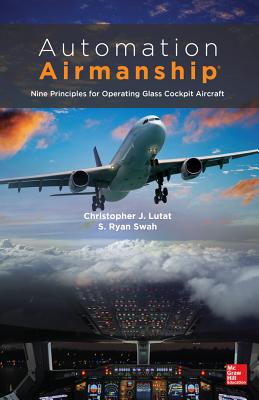 Automation Airmanship: Nine Principles for Operating Glass Cockpit Aircraft
Publisher's Note: Products purchased from Third Party sellers are not guaranteed by the publisher for quality, authenticity, or access to any online entitlements included with the product.Achieve excellence on the automated flight deck
The first practical guide that shows professional pilots how to safely transition to the automated flight deck
Today's remarkable aircraft require remarkable airmanship skills. Automation Airmanship is a breakthrough book that helps pilots master these skills by introducing Nine Principles for Operating Glass Cockpit Aircraft. The nine principles were derived from over a decade of fi eldwork with organizations worldwide that havesuccessfully transitioned to advanced aircraft fleets. Each principle provides a building block for a simplifi ed, straightforward, and disciplined approach to operating increasingly complex aircraft safely and effectively in demanding operational environments.
Written by experienced airline captains who have trained others through the glass cockpit transition, this book presents ideas useful to both veteran glass cockpit pilots and those new to the twenty-first century flight deck. More than a simple list of skills, this powerful resource draws on real-life examples, providing the roadmap you need to successfully transition from steam to glass--and maintain a performance edge for your entire career.
Features:
In-flight experience of experts
Success stories and lessons learned from across the industry
Real-world accident investigations to underscore theimportance of these principles
Powerful tools to avoid errors or to resolve them when issues arise
A guide to fundamentals of automated flight deck architecture
Principles and practices for all phases of flight operations
Christopher J. Lutat, ATP [MD11, DA20], has been an airline pilot for a large global airline for more than 17 years and was a search and rescue pilot for the U.S. Coast Guard for eight years. He is a founding owner of Convergent Performance, LLC and serves as President, Government and Aerospace. Captain Lutat is also a Check Airman and has been an instructor in advanced technology, wide-body global transport aircraft since 2003. S. Ryan Swah, ATP [MD11, LR Jet, CV A340, CV A440], is a retired U.S. Navy Captain with experience in attack, fighter, and transport aircraft. He currently flies the Boeing MD-11 for a major global airline and has held positions as a FAA Aircraft Program Designee, Line Check Airman, Proficiency Check Airman, Standards Check Airman, Aircraft Technical Pilot, Flight Standards Manager, and Senior Flight Standards Manager. Captain Swah is the glass cockpit, automation, checklist, procedures, and flight manual expert for Convergent Performance, LLC.
ISBN: 9780071815864
ISBN-10: 9780071815864
Publisher: McGraw-Hill Education
Publication Date: 05/22/2013 - 12:00am
On Sale: 05/22/2013 - 12:00am
Pages: 256
Language: English
Categories
Aviation - Piloting & Flight Instruction