The Songs of the South: An Anthology of Ancient Chinese Poems by Qu Yuan and Other Poets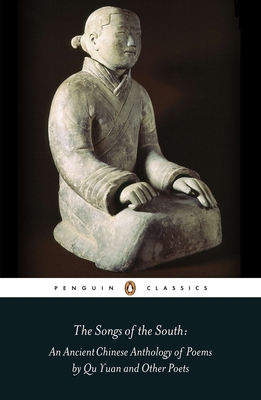 The Songs of the South: An Anthology of Ancient Chinese Poems by Qu Yuan and Other Poets
Out of Stock In Store
Masterworks of early Chinese poetry

Dating from the second century AD, this anthology is the second- oldest collection of Chinese poems in existence. The poems, originating from the state of Chu and rooted in Shamanism, are grouped under seventeen titles and contain all that we know of Chinese poetry's ancient beginnings. The earliest poems were composed in the fourth century BC, and almost half of them are traditionally ascribed to Qu Yuan. In his introduction to this edition, David Hawkes provides a fascinating discussion of the history of these poems and their context, styles, and themes.

For more than seventy years, Penguin has been the leading publisher of classic literature in the English-speaking world. With more than 1,700 titles, Penguin Classics represents a global bookshelf of the best works throughout history and across genres and disciplines. Readers trust the series to provide authoritative texts enhanced by introductions and notes by distinguished scholars and contemporary authors, as well as up-to-date translations by award-winning translators.
Qu Yuan (c. 340 BC-278 BC) was a scholar and a government minister. He is regarded as the first Chinese poet to have his name attributed to his work and his death is commemorated with the famous Duanwu (Dragon Boat) Festival.

David Hawkes (1923-2009) was a professor of Chinese at Oxford from 1959 to 1971. From 1973 to 1983, he was a research fellow of All Souls College, Oxford, and subsequently became an emeritus fellow.
ISBN: 9780140443752
ISBN-10: 9780140443752
Publisher: Penguin Classics
Publication Date: 01/31/2012 - 12:00am
On Sale: 01/31/2012 - 12:00am
Pages: 352
Language: English
Categories