In the Heart of the Sea: The Tragedy of the Whaleship Essex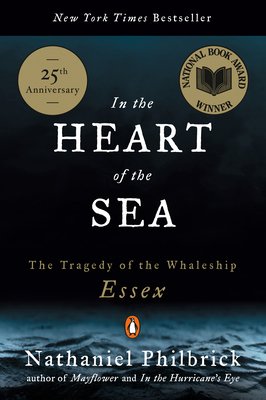 In the Heart of the Sea: The Tragedy of the Whaleship Essex
On Our Shelves Now
From the author of Mayflower, Valiant Ambition, and In the Hurricane's Eye--the riveting bestseller tells the story of the true events that inspired Melville's Moby-Dick. 

Winner of the National Book Award, Nathaniel Philbrick's book is a fantastic saga of survival and adventure, steeped in the lore of whaling, with deep resonance in American literature and history.

In 1820, the whaleship Essex was rammed and sunk by an angry sperm whale, leaving the desperate crew to drift for more than ninety days in three tiny boats. Nathaniel Philbrick uses little-known documents and vivid details about the Nantucket whaling tradition to reveal the chilling facts of this infamous maritime disaster. In the Heart of the Sea, recently adapted into a major feature film starring Chris Hemsworth, is a book for the ages.
Nathaniel Philbrick is the author of In the Heart of the Sea, winner of the National Book Award; Mayflower, finalist for the Pulitzer Prize; Bunker Hill, Valiant Ambition; Sea of Glory; The Last Stand; Why Read Moby Dick?; and Away Off Shore. He lives in Nantucket.  
by Jeremiah
Wed, 05/27/2020 - 2:54pm
Nathaniel Philbrick masterfully recounts the tragic 1820 wrecking of the Nantucket whaling ship Essex. The hardships and horrors of the survivors' ordeal are difficult to read for even the least squeamish of people. I'm pretty squeamish, and trust me, it gets gross. An excellent piece of history writing and an incredible true story.