Britain's War: A New World, 1942-1947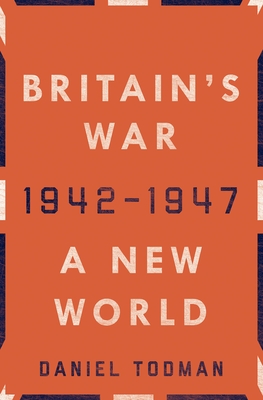 Britain's War: A New World, 1942-1947
Out of Stock In Store (Click to Order)
The second volume of Daniel Todman's account of Great Britain and World War II
The second of Daniel Todman's two sweeping volumes on Great Britain and World War II,
Britain's War: A New World, 1942-1947
, begins with the event Winston Churchill called the worst disaster in British military history: the Fall of Singapore in February 1942 to the Japanese. As in the first volume of Todman's epic account of British involvement in World War II (Total history at its best, according to Jay Winter), he highlights the inter-connectedness of the British experience in this moment and others, focusing on its inhabitants, its defenders, and its wartime leadership. Todman explores the plight of families doomed to spend the war struggling with bombing, rationing, exhausting work and, above all, the absence of their loved ones and the uncertainty of their return. It also documents the full impact of the entrance into the war by the United States, and its ascendant stewardship of the war.
Britain's War: A New World, 1942-1947
is a triumph of narrative and research. Todman explains complex issues of strategy and economics clearly while never losing sight of the human consequences--at home and abroad--of the way that Britain fought its war. It is the definitive account of a drama which reshaped Great Britain and the world.
Daniel Todman is Senior Lecturer in the School of History at Queen Mary University of London. He is also the author of Britain's War: Into Battle, 1937-1941, The Great War: Myth and Memory, and is co-editor of Field Marshall Lord Alanbrooke's War Diaries, 1939-1945.
ISBN: 9780190658489
ISBN-10: 9780190658489
Publisher: Oxford University Press, USA
Publication Date: 03/18/2020 - 12:00am
On Sale: 03/01/2018 - 12:00am
Pages: 976
Language: English
Categories