Meaningful Inefficiencies: Civic Design in an Age of Digital Expediency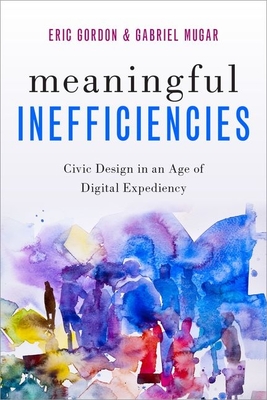 Meaningful Inefficiencies: Civic Design in an Age of Digital Expediency
Public trust in the institutions that mediate civic life-from governing bodies to newsrooms-is low. In facing this challenge, many organizations assume that ensuring greater efficiency will build trust. As a result, these organizations are quick to adopt new technologies to enhance what they do, whether it's a new app or dashboard. However, efficiency, or charting a path to a goal with the least amount of friction, is not itself always built on a foundation of trust.
Meaningful Inefficiencies
is about the practices undertaken by civic designers that challenge the normative applications of "smart technologies" in order to build or repair trust with publics. Based on over sixty interviews with change makers in public serving organizations throughout the United States, as well as detailed case studies, this book provides a practical and deeply philosophical picture of civic life in transition. The designers in this book are not professional designers, but practitioners embedded within organizations who have adopted an approach to public engagement Eric Gordon and Gabriel Mugar call "meaningful inefficiencies," or the deliberate design of less efficient over more efficient means of achieving some ends. This book illustrates how civic designers are creating meaningful inefficiencies within public serving organizations. It also encourages a rethinking of how innovation within these organizations is understood, applied, and sought after. Different than
market innovation, civic innovation is not just about invention and novelty; it is concerned with building communities around novelty, and cultivating deep and persistent trust. At its core,
Meaningful Inefficiencies
underlines that good civic innovation will never just involve one single public good, but must instead negotiate a plurality of publics. In doing so, it creates the conditions for those publics to play, resulting in people truly caring for the world.
Meaningful Inefficiencies
thus presents an emergent and vitally needed approach to creating civic life at a moment when smart and efficient are the dominant forces in social and organizational change.
Eric Gordon is a professor of civic media and the director of the Engagement Lab at Emerson College in Boston, Massachusetts. His research focuses on civic engagement and the transformation of public life and governance in digital culture. He has served as an expert advisor for local and national governments, as well as NGOs around the world, designing responsive processes that encourage play, delight, and deliberation. He is the author of two books about media and cities and, most recently, is the editor of Civic Media: Technology, Design, Practice (MIT Press, 2016) and Ludics: Play from Antiquity to Present (Palgrave, 2020). Gabriel Mugar (Ph.D., Information Science and Technology, Syracuse University) is a design researcher at the global design consultancy, IDEO. He specializes in working with communities and organizations to design opportunities for learning, collaboration, and storytelling.
ISBN: 9780190870133
ISBN-10: 9780190870133
Publisher: Oxford University Press, USA
Publication Date: 02/18/2020 - 12:00am
On Sale: 02/12/2020 - 12:00am
Pages: 200
Language: English
Categories