Modernism and Non-Translation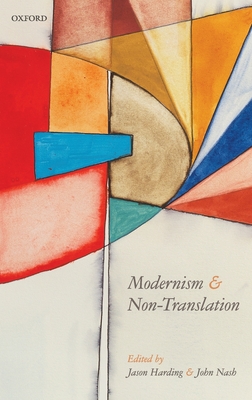 Modernism and Non-Translation
This book explores the incorporation of untranslated fragments from various languages within modernist writing. It studies non-translation in modernist fiction, poetry, and other forms of writing, with a principally European focus and addresses the following questions: what are the aesthetic and cultural implications of non-translation for modernist literature? How did non-translation shape the poetics, and cultural politics, of some of the most important writers of this key period?
This edited volume, written by leading scholars of modernism, explores American, British, and Irish texts, alongside major French and German writers and the wider modernist recovery of Classical languages. The chapters analyse non-translation from the dual perspectives of both 'insider' and 'outsider', unsettling that false opposition and articulating in the process their individuality of expression and experience. The range of voices explored indicates something of the reach and vitality of the matter of translation--and specifically non-translation--across a selection of poetry, fiction, and non-fictional prose, while focusing on mainly canonical voices. Together, these essays seek to provoke and extend debate on the aesthetic, cultural, political, and conceptual dimensions of non-translation as an important yet hitherto neglected facet of modernism, thus helping to re-define our understanding of that movement. It demonstrates the rich possibilities of reading modernism through instances of non-translation.
Jason Harding, Professor in English Studies, Durham University, John Nash, Associate Professor in English Studies, Durham University Jason Harding is Professor in English Studies at Durham University. John Nash is Associate Professor in English Studies at Durham University.
ISBN: 9780198821441
ISBN-10: 9780198821441
Publisher: Oxford University Press, USA
Publication Date: 12/24/2019 - 12:00am
On Sale: 12/24/2019 - 12:00am
Pages: 256
Language: English
Categories