Wallbangin': Graffiti and Gangs in L.A.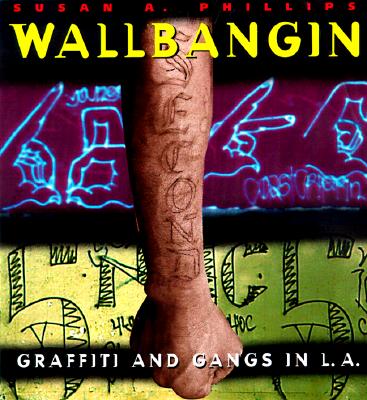 Wallbangin': Graffiti and Gangs in L.A.
Graffiti is as ubiquitous as telephone poles in America's cities; it is as old as the earliest civilizations. The most public medium in the country today, graffiti can signal territory, love, or liberation. Ironically, graffiti is understood by only a fraction of those who encounter it. Usually read as a sign of urban decay and as a loss of control over the physical environment, graffiti has become one of the most potent cultural languages of our age. Wallbangin' is an unprecedented, in-depth look at this phenomenon as it is embodied in the neighborhoods of one of its epicenters, Los Angeles.

Anthropologist Susan Phillips enters the lives of the African-American and Chicano gang members to write a comprehensive guide to their symbolic and visual expression. She not only decodes the graffiti—explaining how, for instance, gang boundaries are visually delimited and how "memorial" graffiti functions—but she also places it in the context of the changing urban landscapes within the city. Graffiti, she argues, is inextricably linked to political change, to race, and to art, and she demonstrates how those connections are played out in contemporary L.A. Wallbangin' is, on this level, an iconography of street imagery. But it is also a very personal narrative about entering the world of L.A. street gangs—a world of pride, enemies, affirmation, and humanity where gang members use graffiti to redefine their social and political position in society.

To many outsiders, graffiti is cryptic, senseless scribbling. But Phillips explains it as an ingenious and creative solution to the disenfranchisement felt by those who produce it. With personal narratives, provocative photography, and contemporary voices, Wallbangin' unlocks the mysteries behind street-level ideologies and their visual manifestations.


ISBN: 9780226667720
ISBN-10: 9780226667720
Publisher: University of Chicago Press
Publication Date: 07/15/1999 - 12:00am
On Sale: 07/15/1999 - 12:00am
Pages: 414
Language: English
Categories
Social Science / Sociology / Urban