The Economistsâ (Tm) Voice 2.0: The Financial Crisis, Health Care Reform, and More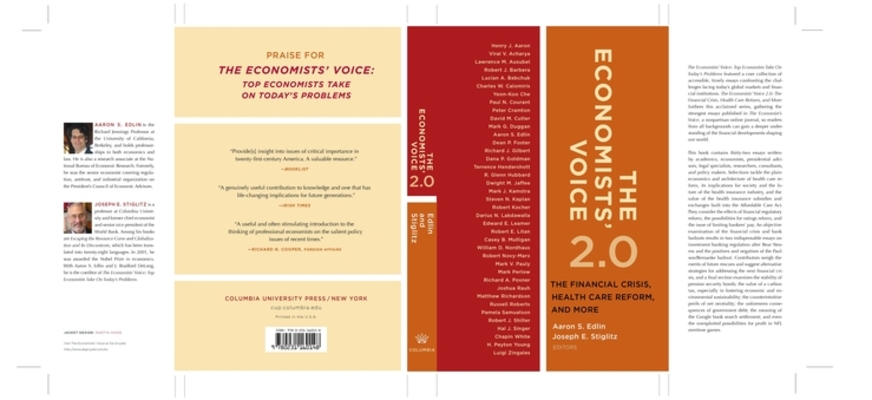 The Economistsâ (Tm) Voice 2.0: The Financial Crisis, Health Care Reform, and More
Out of Stock In Store (Available to Order)
The Economists' Voice: Top Economists Take On Today's Problems featured a core collection of accessible, timely essays on the challenges facing today's global markets and financial institutions. The Economists' Voice 2.0: The Financial Crisis, Health Care Reform, and More is the next installment in this popular series, gathering together the strongest essays published in The Economist's Voice, a nonpartisan online journal, so that students and general readers can gain a deeper understanding of the financial developments shaping their world.
This collection contains thirty-two essays written by academics, economists, presidential advisors, legal specialists, researchers, consultants, and policy makers. They tackle the plain economics and architecture of health care reform, its implications for society and the future of the health insurance industry, and the value of the health insurance subsidies and exchanges built into the law. They consider the effects of financial regulatory reform, the possibilities for ratings reform, and the issue of limiting bankers' pay. An objective examination of the financial crisis and bank bailouts results in two indispensable essays on investment banking regulation after Bear Stearns and the positives and negatives of the Paulson/Bernanke bailout. Contributors weigh the merits of future rescues and suggest alternative strategies for addressing the next financial crisis. A final section examines a unique array of topics: the stability of pension security bonds; the value of a carbon tax, especially in fostering economic and environmental sustainability; the counterintuitive perils of net neutrality; the unforeseen consequences of government debt; the meaning of the Google book search settlement; and the unexploited possibilities for profit in NFL overtime games.
Aaron S. Edlin is the Richard W. Jennings Professor at the University of California, Berkeley, and holds professorships in both economics and law. He is also a research associate at the National Bureau of Economic Research. Formerly, he was the senior economist covering regulation, antitrust, and industrial organization on President Clinton's Council of Economic Advisors. Joseph E. Stiglitz is University Professor at Columbia University and a member and former chair of Columbia University's Committee on Global Thought. He was the winner of the 2001 Nobel Prize for Economics. He had previously served on President Clinton's Council of Economic Advisors before joining the World Bank as chief economist and senior vice president. His most recent book is Creating a Learning Society: A New Approach to Growth, Development, and Social Progress. With Aaron S. Edlin and J. Bradford DeLong, he is the coeditor of The Economists' Voice: Top Economists Take On Today's Problems.
ISBN: 9780231160148
ISBN-10: 9780231160148
Publisher: Columbia University Press
Publication Date: 06/05/2012 - 12:00am
On Sale: 06/05/2012 - 12:00am
Pages: 280
Language: English
Categories
Public Policy - Economic Policy