Think in Public: A Public Books Reader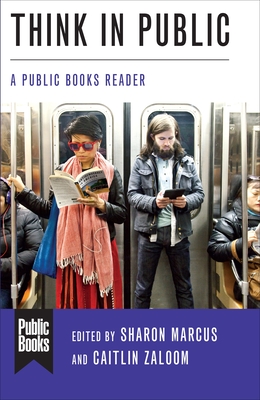 Think in Public: A Public Books Reader
Out of Stock In Store
Since 2012, Public Books has championed a new kind of community for intellectual engagement, discussion, and action. An online magazine that unites the best of the university with the openness of the internet, Public Books is where new ideas are debuted, old facts revived, and dangerous illusions dismantled. Here, young scholars present fresh thinking to audiences outside the academy, accomplished authors weigh in on timely issues, and a wide range of readers encounter the most vital academic insights and explore what they mean for the world at large.
Think in Public: A Public Books Reader presents a selection of inspiring essays that exemplify the magazine's distinctive approach to public scholarship. Gathered here are Public Books contributions from today's leading thinkers, including Jill Lepore, Imani Perry, Kim Phillips-Fein, Salamishah Tillet, Jeremy Adelman, N. D. B. Connolly, Namwali Serpell, and Ursula K. Le Guin. The result is a guide to the most exciting contemporary ideas about literature, politics, economics, history, race, capitalism, gender, technology, and climate change by writers and researchers pushing public debate about these topics in new directions. Think in Public is a lodestone for a rising generation of public scholars and a testament to the power of knowledge.
Sharon Marcus and Caitlin Zaloom are the founders and editors in chief of Public Books. Marcus is Orlando Harriman Professor of English and Comparative Literature at Columbia University. Her books include Between Women: Friendship, Desire, and Marriage in Victorian England (2007) and The Drama of Celebrity (2019). Zaloom is associate professor of social and cultural analysis at New York University. She is the author of Out of the Pits: Traders and Technology from Chicago to London (2006) and Indebted: How Families Make College Work at Any Cost (2019).
ISBN: 9780231190091
ISBN-10: 9780231190091
Publisher: Columbia University Press
Publication Date: 06/25/2019 - 12:00am
On Sale: 06/18/2019 - 12:00am
Pages: 520
Language: English
Categories