Salo Baron: The Past and Future of Jewish Studies in America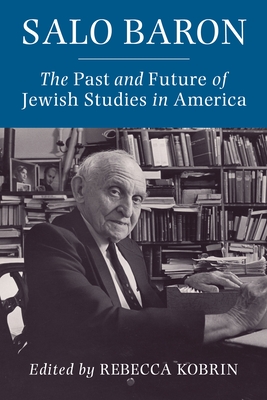 Salo Baron: The Past and Future of Jewish Studies in America
Pre-Order (Not Yet Published)
In 1930, Columbia University appointed Salo Baron to be the Nathan L. Miller Professor of Jewish History, Literature, and Institutions--marking a turning point in the history of Jewish studies in America. Baron not only became perhaps the most accomplished scholar of Jewish history in the twentieth century, the author of many books including the eighteen-volume A Social and Religious History of the Jews. He also created a program and a discipline, mentoring hundreds of scholars, establishing major institutions including the first academic center to study Israel in the United States, building Columbia's Judaica collection, intervening as a public intellectual, and exerting an unparalleled influence on what it meant to study the Jewish past.
This book brings together leading scholars to consider how Baron transformed the course of Jewish studies in the United States. From a variety of perspectives, they reflect on his contributions to the study of Jewish history, literature, and culture, as well as his scholarship, activism, and mentorship. Among many distinguished contributors, David Sorkin engages with Baron's arguments on Jewish emancipation; Francesca Trivellato puts him in conversation with economic history; David Engel examines his use of anti-Semitism as an analytical category; Deborah Lipstadt explores his testimony at the trial of Adolf Eichmann; and Robert Chazan and Jane Gerber, both once Baron's doctoral students, offer personal and intellectual reminiscences. Together, they testify to Baron's singular legacy in shaping Jewish studies in America.
Rebecca Kobrin is the Russell and Bettina Knapp Associate Professor of American Jewish History at Columbia University. She is the author of Jewish Bialystok and Its Diaspora (2010), editor of Chosen Capital: The Jewish Encounter with American Capitalism (2012), and coeditor of Purchasing Power: The Economics of Jewish History (2015).
ISBN: 9780231204859
ISBN-10: 9780231204859
Publisher: Columbia University Press
Publication Date: 03/01/2022 - 12:00am
On Sale: 02/15/2022 - 12:00am
Pages: 288
Language: English
Categories