Stronger: Adapting America's China Strategy in an Age of Competitive Interdependence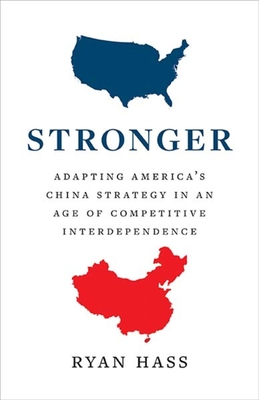 Stronger: Adapting America's China Strategy in an Age of Competitive Interdependence
Out of Stock In Store
An examination of how America can strengthen its approach to China by building on its existing advantages

"This book is essential reading for anyone interested in understanding how the United States can renew its advantages in its competition with China."—Ambassador Susan E. Rice, former U.S. National Security Advisor

"Ryan Hass has provided an indispensable and timely contribution to understanding our critical path forward with China."—Jon M. Huntsman, former U.S. Ambassador to China and Russia

Ryan Hass charts a path forward in America's relationship and rivalry with China, a path rooted in the relative advantages America already possesses. Hass argues that while competition will remain the defining trait of the relationship, both countries will continue to be impacted—for good or ill—by their capacity to coordinate on common challenges that neither can solve on its own, such as pandemic disease, global economic development, climate change, and nuclear nonproliferation. Hass makes the case that the United States will have greater success in outpacing China economically and outshining it in questions of governance if it focuses more on improving its condition at home than on trying to impede Chinese initiatives. He argues that the task at hand is not to stand in China's way and, in the process, turn a rising power into an enemy but to renew America's advantages in its competition with China.
Ryan Hass is the Michael H. Armacost Chair in Foreign Policy at the Brookings Institution and a nonresident affiliated fellow in the Paul Tsai China Center at Yale Law School. He is also a senior advisor at the Scowcroft Group and McLarty Associates.