The Queer Advantage: Conversations with LGBTQ+ Leaders on the Power of Identity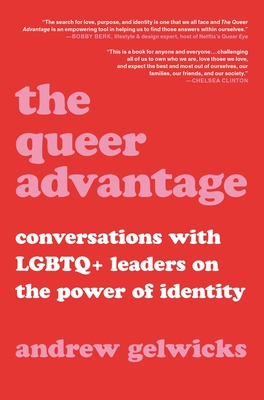 The Queer Advantage: Conversations with LGBTQ+ Leaders on the Power of Identity
Out of Stock In Store
Meet the LGBTQ+ dealmakers, trailblazers, and glass-ceiling breakers in business, politics, and beyond.
The people who are creating national public policy, running billion-dollar tech enterprises, and winning Olympic medals. Andrew Gelwicks interviews the leaders who have forged their own paths and changed the world.

From Troye Sivan to Margaret Cho, George Takei to Billie Jean King, Shangela to Adam Rippon, each person credits their queer identity with giving them an edge in their paths to success. Their stories brim with the hard-won lessons gained over their careers. With variances in age, background, careers, and races, key themes shine through:


Channeling anger in a positive way -- using it as rocket fuel to succeed
Leveraging your difference to beget new ideas and strategies
Bridging generational gaps
Accessing resources to conquer crippling denial, internalized homophobia, and doubt
The power of the Internet as a tool of self-discovery
Using your sensitivity and attunement to read the room, deciding when to fit in and when to stand out
Finding a queer tribe and learning to help and lean on one another
Collecting incisive, deeply personal conversations with LGBTQ+ trailblazers about how they leveraged the challenges and insights they had as relative outsiders to succeed in the worlds of business, tech, politics, Hollywood, sports and beyond,
The Queer Advantage
celebrates the unique, supercharged power of queerness.
Andrew Gelwicks is a celebrity fashion stylist. He started in the fashion department at GQ, and later worked in celebrity booking for Teen VOGUE. He also has extensive experiences in public relations, marketing and celebrity relations at Hearst Magazines, Michael Kors, and Starworks Group.

His clientele in New York and LA includes a mix of young Hollywood elite and seasoned stars. His extensive portfolio includes working with Tommy Dorfman, Brandon Flynn, Delilah Belle Hamlin, Sistine Stallone, KJ Apa, Nicole Scherzinger, Ryan Jamaal Swain, Lisa Rinna, Tove Lo, Dascha Polanco, Dominique Jackson, Chloe Lukasiak, the Queer Eye cast, Gigi Gorgeous, Josie Canseco, and more.

Andrew has been featured internationally in Forbes, WWD, The Hollywood Reporter, InStyle, Town & Country, People, Life & Style, Amuze, and El País, among others. He was recently named by Bumble as one of the 100 Most Inspiring New Yorkers.

His writing has been published in The Hollywood Reporter, OUT, The Huffington Post, Harper's BAZAAR, Teen VOGUE, among others.