Saving Stalin: Roosevelt, Churchill, Stalin, and the Cost of Allied Victory in Europe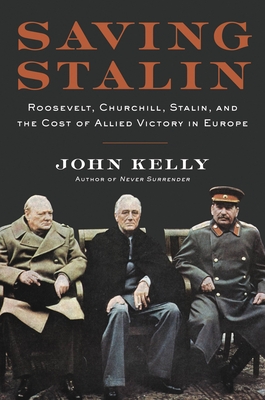 Saving Stalin: Roosevelt, Churchill, Stalin, and the Cost of Allied Victory in Europe
Out of Stock In Store (Click to Order)
During World War II, the Allied leaders banded together, forged a great victory--and created a new and dangerous post-war world.
In the summer of 1941, Harry Hopkins, Franklin Roosevelt's trusted advisor, arrived in Moscow to assess whether the US should send aid to Russia as it had to Britain. Unofficially, he was there to determine whether Josef Stalin--the man who had killed over six million Ukrainians during the 1930s--was worth saving.
In this riveting and sweeping narrative, author John Kelly chronicles the turbulent wartime relationship between the great leaders--Roosevelt, Churchill, and Stalin--and military commanders of America, Britain, and the Soviet Union. Faced with the greatest challenge of the century, the Allied leaders and their war managers struggled against a common enemy--and each other. The story behind how victory was forged is an epic story, rich in drama, passion and larger-than-life personalities. The Allies eventually triumphed, but at what cost?
Using his trademark character-rich writing style and focusing on unique, unknown, and unexplored aspects of the story, Kelly offers a fresh perspective on the decision-making that changed the course of the war--and the course of history.
Saving Stalin brings to vivid life the epic story of the century's greatest human catastrophe. It is an unforgettable master work in historical narrative.
John Kelly is the author of the highly praised bestseller The Great Mortality, about the Black Death of 1348, and the acclaimed The Graves Are Walking, about the Irish famine of the mid-nineteenth century, as well as Never Surrender, his praised previous book about the beginning of World War II. He has written extensively about medicine, history, and psychology. He lives in New York City.