The Tightening Dark: An American Hostage in Yemen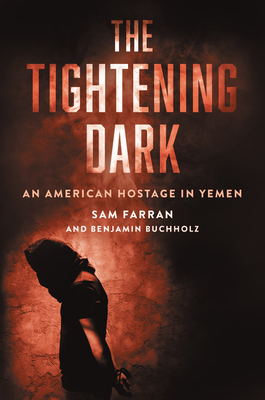 The Tightening Dark: An American Hostage in Yemen
On Our Shelves Now
This riveting memoir follows a Lebanese-Muslim-American and thirty-year US Marine veteran who suffered a six-month ordeal at the hands of a brutal regime in Yemen—and remained loyal to his country through it all.
As air strikes carpeted Yemen's capital, Sam Farran was one of only a few Americans in the war-ravaged country. He was there to conduct security assessments for a variety of international firms. Days after his arrival, he was brutally seized and taken hostage by Houthi rebels. Sam would spend the next six months suffering a horrific ordeal that would test his endurance, his loyalty and his very soul. 
Every day his captors asked him—as a fellow Muslim—to betray America and his Marine heritage in exchange for his freedom. Would he give in to the Houthis and return to his Middle Eastern roots? In the end--and despite daily threats to his life—Sam found the strength to resist, and came out of his ordeal with an increased sense of being, foremost, a US Marine. 
The Tightening Dark
is an intimate, riveting and inspiring memoir of heroic strength, courage, survival and commitment to country. And a reminder that the best parts of the American dream are the dreamers—those who pledge to being American, regardless of where they are born.
Haisam "Sam" Farran was born in Lebanon but moved to the US at age ten. He joined the US Marines and served in many locations and in many roles around the world, culminating as a Warrant Officer working from the Military Attaché Office in Yemen. Sam fell in love with Yemen and returned time and again to work there as an analyst and facilitator for US and other companies. Sam married a Yemeni woman and now lives in Beirut.
 
Benjamin Buchholz served in Yemen as the Chief of Attaché Operations at the US Embassy during and up to the Houthi overthrow of the Yemeni government. He is the author of the novel One Hundred and One Nights, the non-fiction book Private Soldiers, and the forthcoming novel Sirens of Manhattan. Ben lives in Tashkent, Uzbekistan, where he currently serves in the US Embassy as the Senior Defense Official.