Brain Reboot: New Treatments for Healing Depression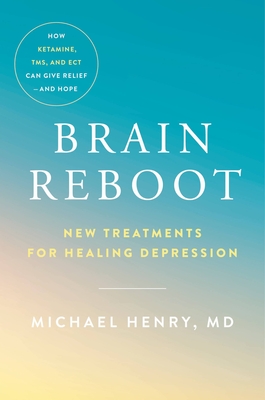 Brain Reboot: New Treatments for Healing Depression
Pre-Order (Not Yet Published)
HEAL YOUR DEPRESSION AND REGAIN YOUR LIFE—WITH THREE NEW TOOLS ON THE CUTTING EDGE OF TREATMENT
 
Everyone feels depressed sometimes. But a sustained lack of energy, a pro-found inability to enjoy life, or an overwhelming sadness that can render unbearable pain may be symptoms of something more. If you suffer from any of these symptoms, you may be one of 300 million people worldwide who have depression. While we often think of pharmaceutical treatments as the best way to treat depression, the truth is that for many people they either don't work or lose their efficacy after a time. But there is hope in the form of three groundbreaking therapies: ketamine, transcranial magnetic stimulation (TMS), and electroconvulsive therapy (ECT). In Brain Reboot, you'll learn:
How to get an accurate diagnosis
How to determine what treatment(s) are best for you
The efficacy of ketamine, TMS, and ECT
A clear summary of benefits and potential side effects
Step-by-step information for each treatment and FAQs
Tips for supplementing your recovery with exercise, nutrition, and sleep
Treatments on the horizon
Dr. Michael Henry's life mission is to help anyone suffering with treatment-resistant depression; in
Brain Reboot
he provides everything you need to know about using ketamine, TMS, and ECT to regain your self and your life.
Dr. Michael Henry is the director of the ECT service at Massachusetts General Hospital in Boston, MA and a lecturer at Harvard Medical School. He completed his residency in psychiatry at the University of Massachusetts Medical Center in Worcester, MA, and a fellowship in clinical pharmacology at the National Institute of Mental Health in Bethesda, MD. He is a member of the American Society of Clinical Psychopharmacology, and the International Society for ECT and Neurostimulation, and is a Fellow of the International College of Neuropsychopharmacology. He has presented his work treating patients with these three treatments both nationally and internationally. 
 
ISBN: 9780306925177
ISBN-10: 9780306925177
Publisher: Hachette Go
Publication Date: 11/29/2022 - 12:00am
On Sale: 11/29/2022 - 12:00am
Pages: 272
Language: English
Categories
Psychology / Psychopathology / Depression