Emma (Vintage Classics)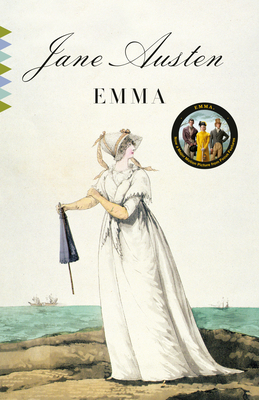 Emma (Vintage Classics)
Likely On Our Shelves
A Vintage Classics edition of Jane Austen's revolutionary and inspiring novel

Twenty-one-year-old Emma Woodhouse is comfortably dominating the social order in the village of Highbury, convinced that she has both the understanding and the right to manage other people's lives—for their own good, of course. Her well-meant interfering centers on the aloof Jane Fairfax, the dangerously attractive Frank Churchill, the foolish if appealing Harriet Smith, and the ambitious young vicar Mr. Elton—and ends with her complacency shattered, her mind awakened to some of life's more intractable dilemmas, and her happiness assured.

Austen's comic imagination was so deft and beautifully fluent that she could use it to probe the deepest human ironies while setting before us a dazzling gallery of characters—some pretentious or ridiculous, some admirable and moving, all utterly true.


Jane Austen (1775—1817) was born in Hampshire, England, where she spent most of her life. Though she received little recognition in her lifetime, she came to be regarded as one of the great masters of the English novel.
ISBN: 9780307386847
ISBN-10: 9780307386847
Publisher: Vintage
Publication Date: 09/04/2007 - 12:00am
On Sale: 09/04/2007 - 12:00am
Pages: 512
Language: English
Categories