Ten Hours Until Dawn: The True Story of Heroism and Tragedy Aboard the Can Do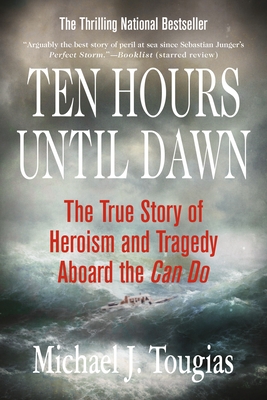 Ten Hours Until Dawn: The True Story of Heroism and Tragedy Aboard the Can Do
Out of Stock In Store (Click to Order)
This item may not be available to order. Please call 617-566-6660 for more information.
In the midst of the Blizzard of 1978, the tanker Global Hope floundered on the shoals in Salem Sound off the Massachusetts coast. The Coast Guard heard the Mayday calls and immediately dispatched a patrol boat. Within an hour, the Coast Guard boat was in as much trouble as the tanker, having lost its radar, depth finder, and engine power in horrendous seas. Pilot boat Captain Frank Quirk was monitoring the Coast Guard's efforts by radio, and when he heard that the patrol boat was in jeopardy, he decided to act. Gathering his crew of four, he readied his forty-nine-foot steel boat, the Can Do, and entered the maelstrom of the blizzard.

Using dozens of interview and audiotapes that recorded every word exchanged between Quirk and the Coast Guard, Tougias has written a devastating, true account of bravery and death at sea, in Ten Hours Until Dawn.
Michael J. Tougias is the author of many award-winning true rescue stories, including the New York Times-bestseller The Finest Hours, A Storm Too Soon, Into the Blizzard, and Attacked at Sea. His latest book is The Waters Between Us: A Boy, A Father, Outdoor Misadventures and the Healing Power of Nature. A frequent lecturer on his work, Tougias splits his time between Massachusetts and Florida. michaeltougias.com