Whose Freedom?: The Battle over America's Most Important Idea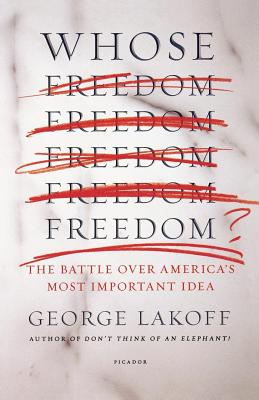 Whose Freedom?: The Battle over America's Most Important Idea
Out of Stock In Store
Since September 11, 2001, the Bush administration has relentlessly invoked the word "freedom." Al-Qaeda attacked us because "they hate our freedom." The U.S. can strike preemptively because "freedom is on the march." Social security should be privatized in order to protect individual freedoms. The 2005 presidential inaugural speech was a kind of crescendo: the words "freedom," "free," and "liberty," were used forty-nine times in President Bush's twenty-minute speech.

In Whose Freedom?, Lakoff surveys the political landscape and offers an essential map of the Republican battle plan that has captured the hearts and minds of Americans--and shows how progressives can fight to reinvigorate this most beloved of American political ideas.
George Lakoff is the author of Don't Think of an Elephant and Moral Politics, as well as many seminal books on linguistics. He lives and teaches in Berkeley, California.