Strategic Impasse: Offense, Defense, and Deterrence Theory and Practice (Discographies #89)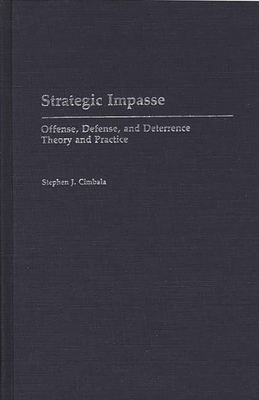 Strategic Impasse: Offense, Defense, and Deterrence Theory and Practice (Discographies #89)
There is probably no area of more crucial concern nor one more subject to possible misunderstanding and riddled with paradox than nuclear weapons and their use, not only in war, but as deterrents to war. In Strategic Impasse, Cimbala examines the critical issues, problems, and paradoxes inherent in the current nuclear situation. It is from a fundamental contradiction--the usefulness of nuclear weapons versus the undesirability of nuclear war--that nuclear deadlock arises. Their usefulness as deterrents is based on their destructive potential and the balance of power in Europe cannot be adjusted until the inflexible, bipolar balance of terror is addressed. Ironically, superpower sovereignty in nuclear first strike/retaliation capability, shared across the divided East-West political buffer zone, created the impetus for improvements in conventional warfare. To the extent war can be contained below the nuclear threshold, conventional weaponry contributes to deterrence by denial. One difficulty lies in the improbability of completely isolating the nuclear from the conventional battlefield in a European scenario. Also, a level of superpower force perceived to be adequate in peacetime might prove to be an inadequate intrawar deterrent. Because of the underdevelopment of conceptual frameworks, credible deterrence--the creation of nuclear campaigns designed to prevent war--remains conjectural. Highly usable weapons require a command system that can provide for simultaneous fighting and escalation, but escalation beyond a certain level conflicts with control and therefore usability. In turn, low expectations of weapon usability may weaken deterrence. In Gorbachev's defensive sufficiency, forces for aggression and surprise attack would be diminished, while forces for defense would be strengthened. The problem lies not only in differentiating between offensive and defensive weaponry but in achieving a consensus on such a definition by NATO's member countries.
The book is divided into three parts: the first section, Issues of Theory and Strategy, scrutinizes the relationship between offense and defense and examines SDI and more inclusive strategic defense matters. It also questions the connection between policy objectives and force, and explores the complication of externalities, such as relations with allies. In section two, Stretching Deterrence, Cimbala reviews the operational art likely to be employed by the Soviets in a conventionally fought European war and defines and appraises the sensor-cyber revolution in technology and its impacts on preferred strategies. The final part, Beyond Deterrence, considers war termination scenarios and related issues, including sociopolitical aspects, surveys the part nuclear weapons play in superpower competition in the Third World, and explains how issues of sovereignty effect deterrence, avoidance, and future super power relations. Strategic Impasse will enable scholars and students of military affairs as well as political scientists and government officials to see beyond current nuclear rhetoric and to make informed judgments on an issue that fundamentally affects this nation's and the world's future.
STEPHEN J. CIMBALA, Professor of Political Science at Pennsylvania State University, has contributed to the field of national security studies for many years. He has written National Security Strategy (Praeger, 1984), Strategic War Termination (Praeger, 1986), Challenges to Deterrence (Praeger, 1987), Nuclear War and Nuclear Strategy (Greenwood Press, 1987), Nuclear Strategizing (Praeger, 1988), and Nuclear Endings (Praeger, 1989).
ISBN: 9780313265167
ISBN-10: 9780313265167
Publisher: Greenwood Press
Publication Date: 08/23/1989 - 12:00am
On Sale: 08/23/1989 - 12:00am
Pages: 287
Language: English
Categories