The Fifth Season (The Broken Earth #1)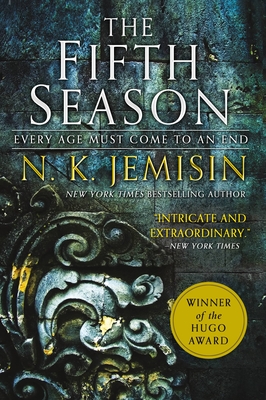 The Fifth Season (The Broken Earth #1)
On Our Shelves Now
At the end of the world, a woman must hide her secret power and find her kidnapped daughter in this "intricate and extraordinary" Hugo Award winning novel of power, oppression, and revolution. (The New York Times)

This is the way the world ends. . .for the last time.

It starts with the great red rift across the heart of the world's sole continent, spewing ash that blots out the sun. It starts with death, with a murdered son and a missing daughter. It starts with betrayal, and long dormant wounds rising up to fester.

This is the Stillness, a land long familiar with catastrophe, where the power of the earth is wielded as a weapon. And where there is no mercy.

Read the first book in the critically acclaimed, three-time Hugo award-winning trilogy by NYT bestselling author N. K. Jemisin.
N. K. Jemisin is a Brooklyn author who won the Hugo Award for Best Novel for The Fifth Season, which was also a New York Times Notable Book of 2015. She previously won the Locus Award for her first novel, The Hundred Thousand Kingdoms, and her short fiction and novels have been nominated multiple times for Hugo, World Fantasy, Nebula, and RT Reviewers' Choice awards, and shortlisted for the Crawford and the James Tiptree, Jr. awards. She is a science fiction and fantasy reviewer for the New York Times, and you can find her online at nkjemisin.com.
by Patrick
Wed, 05/27/2020 - 1:22pm
I know this series has been around for a while, but what better time to enjoy an epic tale of a vengeful Earth; a protagonist discovering a well of power she has been taught to suppress; and the fight against regimes of oppression, clung to in the name of safety? This series starts with the extremely personal–a murdered son–and ends with nothing less than a battle for the fate of the Earth, in a completely justified and satisfying way. Jemisin's characters are bursting with life, and she expertly weaves together issues of gender, sexuality, social domination, climactic change, and the fallout of human hubris (to name a few), all within an action-packed narrative. One of my favorite reads of last year, when I finally got around to it. Don't make my mistake and wait any longer than you already have.
From The Days (and Weeks, and Months...) the Earth Stood Still
ISBN: 9780316229296
ISBN-10: 9780316229296
Publisher: Orbit
Publication Date: 08/04/2015 - 12:00am
On Sale: 08/04/2015 - 12:00am
Pages: 512
Language: English
Categories