The Braid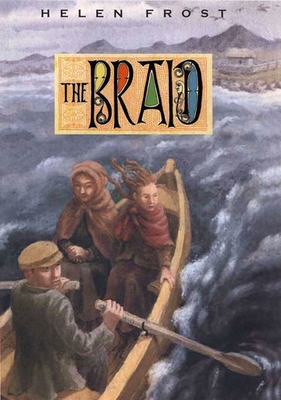 The Braid
Out of Stock In Store
Two sisters, Jeannie and Sarah, tell their separate yet tightly interwoven stories in alternating narrative poems. Each sister – Jeannie, who leaves Scotland during the Highland Clearances with her father, mother, and the younger children, and Sarah, who hides so she can stay behind with her grandmother – carries a length of the other's hair braided with her own. The braid binds them together when they are worlds apart and reminds them of who they used to be before they were evicted from the Western Isles, where their family had lived for many generations.

The award-winning poet Helen Frost eloquently twists strand over strand of language, braiding the words at the edges of the poems to bring new poetic forms to life while intertwining the destinies of two young girls and the people who cross their paths in this unforgettable novel. An author's note describes the inventive poetic form in detail.

The Braid is a 2007 Bank Street - Best Children's Book of the Year.
Helen Frost is the author of several books for young people, including Hidden, Diamond Willow, Crossing Stones, The Braid, and Keesha's House, selected an Honor Book for the Michael L. Printz Award. Helen Frost was born in 1949 in South Dakota, the fifth of ten children. She recalls the summer her family moved from South Dakota to Oregon, traveling in a big trailer and camping in places like the Badlands and Yellowstone. Her father told the family stories before they went to sleep, and Helen would dream about their travels, her family, and their old house. "That's how I became a writer," she says. "I didn't know it at the time, but all those things were accumulating somewhere inside me." As a child, she loved to travel, think, swim, sing, learn, canoe, write, argue, sew, play the piano, play softball, play with dolls, daydream, read, go fishing, and climb trees. Now, when she sits down to write, her own experiences become the details of her stories. Helen has lived in South Dakota, Oregon, Massachusetts, New York, Vermont, Scotland, Colorado, Alaska, California, and Indiana. She currently lives in Fort Wayne, Indiana, with her family.