Solid Ivory: Memoirs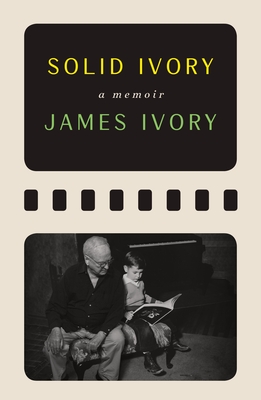 The irreverent, brilliant memoirs of the legendary filmmaker James Ivory

In Solid Ivory, a carefully crafted mosaic of memories, portraits, and reflections, the Academy Award–winning filmmaker James Ivory, a partner in the legendary Merchant Ivory Productions and the director of A Room with a View, Howards End, Maurice, and The Remains of the Day, tells stories from his remarkable life and career as one of the most influential directors of his time. At times, he touches on his love affairs, looking back coolly and with unexpected frankness.

From first meeting his collaborator and life partner, Ismail Merchant, at the Indian Consulate in New York to winning an Academy Award at age eighty-nine for Call Me by Your Name; from seeing his first film at age five in Klamath Falls, Oregon, to memories of Satyajit Ray, Jean Renoir, The New Yorker magazine's film critic Pauline Kael (his longtime enemy), Vanessa Redgrave, J. D. Salinger, George Cukor, Kenneth Clark, Bruce Chatwin, Ruth Prawer Jhabvala, and Merchant—Ivory writes with invariable fluency, wit, and perception about what made him who he is and how he made the movies for which he is known and loved.

Solid Ivory, edited by Peter Cameron, is an utterly winning portrait of an extraordinary life told by an unmatched storyteller.
James Ivory is an Academy Award–winning director, producer, and screenwriter. His directorial work includes A Room with a View, Howards End, and The Remains of the Day, for each of which he was nominated for the Academy Award for Best Director. In 2017, he won an Academy Award for Best Adapted Screenplay for Call Me by Your Name. He has also won three BAFTA Awards, a Directors Guild of America Lifetime Achievement Award, and a Writers Guild of America Award, among many other honors.

Peter Cameron is the author of Andorra, The City of Your Final Destination, and Someday This Pain Will Be Useful to You. His work has appeared in The New Yorker, Grand Street, and The Paris Review. He lives in New York City.