Fifty Shades Freed: Book Three of the Fifty Shades Trilogy (Fifty Shades Of Grey Series)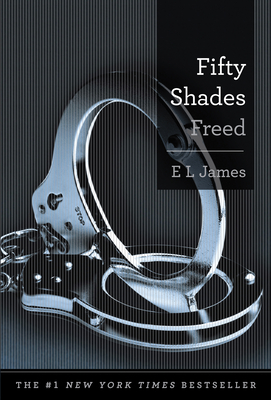 Fifty Shades Freed: Book Three of the Fifty Shades Trilogy (Fifty Shades Of Grey Series)
Out of Stock In Store
Relive the sensuality, the romance and the drama of Fifty Shades Freed through the thoughts, reflections and dreams of Christian Grey. Look for FREED: Fifty Shades as Told by Christian, available for pre-order now.
MORE THAN 150 MILLION COPIES SOLD WORLDWIDE
Now in hardcover, with a silk ribbon marker and printed endpapers, the third volume of the New York Times #1 bestselling series.
When unworldly student Anastasia Steele first encountered the driven and dazzling young entrepreneur Christian Grey, it sparked a sensual affair that changed both of their lives irrevocably. Shocked, intrigued, and, ultimately, repelled by Christian's singular erotic tastes, Ana demands a deeper commitment. Determined to keep her, Christian agrees.
Now, Ana and Christian have it all—love, passion, intimacy, wealth, and a world of possibilities for their future. But Ana knows that loving her Fifty Shades will not be easy, and that being together will pose challenges that neither of them would anticipate. Ana must somehow learn to share Christian's opulent lifestyle without sacrificing her own identity. And Christian must overcome his compulsion to control as he wrestles with the demons of a tormented past.
Just when it seems that their strength together will eclipse any obstacle, misfortune, malice, and fate conspire to make Ana's deepest fears turn to reality.
This book is intended for mature audiences.
E L James is an incurable romantic and a self-confessed fangirl. After twenty-five years of working in television, she decided to pursue a childhood dream and write stories that readers could take to their hearts. The result was the controversial and sensuous romance Fifty Shades of Grey and its two sequels, Fifty Shades Darker and Fifty Shades Freed. In 2015, she published the #1 bestseller Grey, the story of Fifty Shades of Grey from the perspective of Christian Grey, and in 2017, the chart-topping Darker, the second part of the Fifty Shades story from Christian's point of view. She followed with the #1 New York Times bestseller The Mister in 2019. In 2021, she released the #1 New York Times, USA Today, Wall Street Journal, and international bestseller Freed, the third novel in the As Told by Christian trilogy. Her books have been published in fifty languages and have sold more than 165 million copies worldwide.
E L James has been recognized as one of Time Magazine's Most Influential People in the World and Publishers Weekly's Person of the Year. Fifty Shades of Grey stayed on the New York Times bestseller list for 133 consecutive weeks. Fifty Shades Freed won the Goodreads Choice Award (2012), and Fifty Shades of Grey was selected as one of the 100 Great Reads, as voted by readers, in PBS's The Great American Read (2018). Darker was longlisted for the 2019 International DUBLIN Literary Award.
She was a producer on each of the three Fifty Shades movies, which made more than a billion dollars at the box office. The third installment, Fifty Shades Freed, won the People's Choice Award for Drama in 2018.
E L James is blessed with two wonderful sons and lives with her husband, the novelist and screenwriter Niall Leonard, and their beloved dogs in the leafy suburbs of West London.
ISBN: 9780385537698
ISBN-10: 9780385537698
Publisher: Bloom Books
Publication Date: 01/29/2013 - 12:00am
On Sale: 01/29/2013 - 12:00am
Pages: 592
Language: English
Categories