From Here to Eternity: Traveling the World to Find the Good Death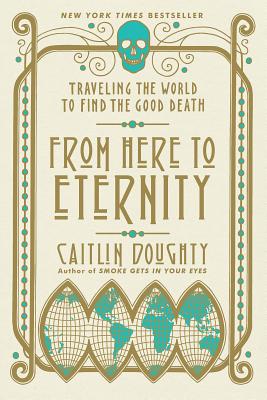 From Here to Eternity: Traveling the World to Find the Good Death
On Our Shelves Now
A New York Times and Los Angeles Times Bestseller

"Doughty chronicles [death] practices with tenderheartedness, a technician's fascination, and an unsentimental respect for grief." —Jill Lepore, The New Yorker
Fascinated by our pervasive fear of dead bodies, mortician Caitlin Doughty embarks on a global expedition to discover how other cultures care for the dead. From Zoroastrian sky burials to wish-granting Bolivian skulls, she investigates the world's funerary customs and expands our sense of what it means to treat the dead with dignity. Her account questions the rituals of the American funeral industry—especially chemical embalming—and suggests that the most effective traditions are those that allow mourners to personally attend to the body of the deceased. Exquisitely illustrated by artist Landis Blair, From Here to Eternity is an adventure into the morbid unknown, a fascinating tour through the unique ways people everywhere confront mortality.
Caitlin Doughty is a mortician and the New York Times best-selling author of Smoke Gets in Your Eyes, From Here to Eternity, and Will My Cat Eat My Eyeballs? She is the creator of the web series Ask a Mortician, and the founder of The Order of the Good Death. She lives in Los Angeles, California, where she owns a funeral home.

Landis Blair illustrated the prize-winning graphic novel The Hunting Accident and the New York Times bestseller From Here to Eternity, and has published illustrations in the New York Times, Chicago magazine, and Medium. He lives in Chicago, Illinois.
by Caroline
Wed, 05/27/2020 - 3:00pm
Although death is not something we all want to think about while many are being forced to experience it on a larger scale, Caitlin Doughty's work is extremely important at all times and especially now. She comes at the topic with a "death positive" lens; focusing on how we can shift our grief, and the way we care for our passed loved ones, in a positive direction for both ourselves and the planet. This book takes a broad, interconnected perspective on mourning practices around the world, but if you are looking for more of a straight memoir on the subject I also recommend the author's first book, Smoke Gets in Your Eyes.