Military Coloring Book: For Kids 4-12, military & army forces, Tanks, Helicopters, Soldiers, Guns, Navy, Planes, Ships, Helicopters Fighter Je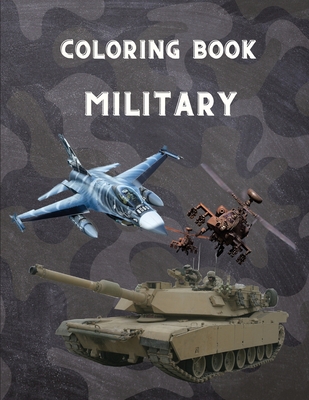 Military Coloring Book: For Kids 4-12, military & army forces, Tanks, Helicopters, Soldiers, Guns, Navy, Planes, Ships, Helicopters Fighter Je
Out of Stock In Store (Available to Order)
Discover the armed forces in your home, colour these images in the colours you see
Enjoy beautiful Army and simple designs with this relaxing coloring book
Inside this book you'll find 50 illustrations Army drawing designs that are just waiting to be filled with color. Not only is coloring fun and relaxing, it's also a creative opportunity to be yourself by expressing how you feel through color. Whatever art materials you love to use-watercolors, colored pencils, markers, crayons, gel pens-they will look stunning on this high-quality, extra-thick paper.
Our book is a wonderful way for new colorists to venture into the exciting world of adult coloring. Forget about highly intricate designs and challenging patterns. Our book is full of easy, enjoyable, and simple patterns that anyone can enjoy.
Each page is single sided so you can cut out the page and frame it or use markers without worrying about them bleeding to an image on the other side. It's recommended to use a blank sheet of paper behind the page you are coloring so the color doesn't bleed to the image on the next page
You will Love this Coloring Book. Because it features:
-Features detailed 50 Illustrations
-Stress Relieving Designs that are Great for Relaxation
-Each image is printed in high resolution to offer crisp, sharp designs.
-This coloring book offers a broad variety of designs suited for all skill levels - ranging from beginner to expert level.
-Well-crafted illustrations and designs that lay the groundwork for you to create your own frame-worthy masterpieces.
Really is A Great Gift. Coloring books make a wonderful gift, click on the author name to find an others beautiful collections
Buy Now & Relax.
ISBN: 9780401717271
ISBN-10: 9780401717271
Publisher: Vasile Molesteanu
Publication Date: 05/29/2021 - 12:00am
On Sale: 05/29/2021 - 12:00am
Pages: 104
Language: English
Categories