Friends Forever: How Parents Can Help Their Kids Make and Keep Good Friends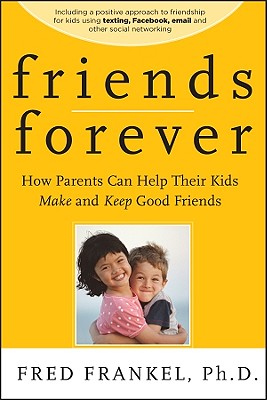 Friends Forever: How Parents Can Help Their Kids Make and Keep Good Friends
Out of Stock In Store
A systematic plan for parents to help their kids acquire and sustain friendships
Every parent hopes their child will develop healthy and happy friendships. However, most parents don't know what to do that will encourage their child to be a friend and attract friends. The author offers clear-cut friendship-making guidelines for parents and their children. Some of the book's recommendations include: don't over-schedule a child's time; guide children to participate in "friend-attracting" activities; seek out friends in the neighborhood.
The author includes methods for dealing with bullying and inappropriate friendships
Offers clear guidance for helping children become a good friend and attract lasting friendships for life
Shows how to teach kids the social and emotional intelligence skills they need to form friendships such as listening, empathy, compassion, recreational conversation
The book also includes techniques for teaching kids how to use MySpace, Facebook, and Twitter in positive ways that will foster friendships.
Fred Frankel, Ph.D., is a professor of Psychiatry and Biobehavioral Sciences at University of California, Los Angeles (UCLA) and the director of the UCLA Parent Training and Children's Friendship Programs. A coauthor of UCLA's acclaimed PEERS social skills training program and the coauthor of Social Skills Success for Students with Autism/Asperger's: Helping Adolescents onthe Spectrum Fit In, he speaks regularly on the topic of autism and social skills to professionals and parents alike. More information is available at http: //www.semel.ucla.edu/socialskills.
ISBN: 9780470624500
ISBN-10: 9780470624500
Publisher: Jossey-Bass
Publication Date: 08/02/2010 - 12:00am
On Sale: 08/02/2010 - 12:00am
Pages: 320
Language: English
Categories