Creative Haven Wondrous Wildlife Coloring Book (Creative Haven Coloring Books)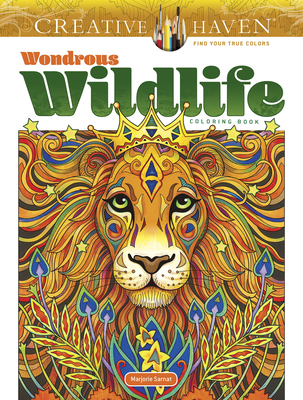 Creative Haven Wondrous Wildlife Coloring Book (Creative Haven Coloring Books)
Likely On Our Shelves
Celebrate the wonders of the animal world with 31 drawings in Marjorie Sarnat's unique decorative style. Illustrations include a mesmerizing elephant and lion, aquatic dolphin and whale, detailed peacock, lovable panda, fearsome wolf, and many more creatures.
Designed for experienced colorists, Wondrous Wildlife and other Creative Haven(R) adult coloring books are a fun and easy way to relax.
Pages are perforated and printed on one side only for easy removal.
Marjorie Sarnat is the author and illustrator of Dover's bestselling Creative Haven Creative Cats, Playful Puppies, Owls, Magnificent Mermaids, Dream Horses, and more than a dozen other popular coloring book titles. Plus, she is the author of books on art and creativity. The Chicago native, who now lives in Southern California, is an award-winning mixed-media artist whose fanciful coloring book style evolved from her love of patterns, which she developed in the course of her work as a textile designer.
ISBN: 9780486845425
ISBN-10: 9780486845425
Publisher: Dover Publications
Publication Date: 02/17/2021 - 12:00am
On Sale: 02/17/2021 - 12:00am
Pages: 64
Language: English
Categories