The Parker Inheritance (Scholastic Gold)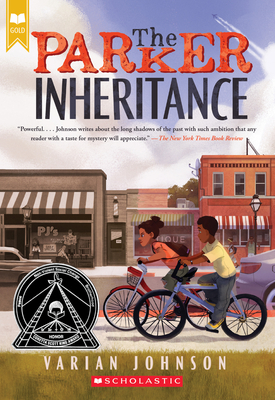 The Parker Inheritance (Scholastic Gold)
Likely On Our Shelves
A Boston Globe / Horn Book Honor winner * Four Starred Reviews * Over Ten Best-of-Year Lists"Powerful.... Johnson writes about the long shadows of the past with such ambition that any reader with a taste for mystery will appreciate the puzzle Candice and Brandon must solve." -- The New York Times Book Review
A Coretta Scott King Author Honor and Boston Globe / Horn Book Honor winner!
"Powerful.... Johnson writes about the long shadows of the past with such ambition that any reader with a taste for mystery will appreciate the puzzle Candice and Brandon must solve." -- The New York Times Book Review
When Candice finds a letter in an old attic in Lambert, South Carolina, she isn't sure she should read it. It's addressed to her grandmother, who left the town in shame. But the letter describes a young woman. An injustice that happened decades ago. A mystery enfolding its writer. And the fortune that awaits the person who solves the puzzle.So with the help of Brandon, the quiet boy across the street, she begins to decipher the clues. The challenge will lead them deep into Lambert's history, full of ugly deeds, forgotten heroes, and one great love; and deeper into their own families, with their own unspoken secrets. Can they find the fortune and fulfill the letter's promise before the answers slip into the past yet again?Featuring exclusive bonus content!
Varian Johnson is the author of several novels for children and young adults, including The Parker Inheritance, which won both Coretta Scott King Author Honor and Boston Globe/Horn Book Honor awards, The Great Greene Heist, an ALA Notable Children's book, a Kirkus Reviews Best Book, and a Texas Library Association Lone Star List selection, and the graphic novel Twins co-created with Shannon Wright, an NPR Best Book. He lives with his family near Austin, Texas. You can visit him on the web at varianjohnson.com and @varianjohnson.