Reaching New Heights Through Kindness In Marriage: A universal approach for anyone seeking a more harmonious relationship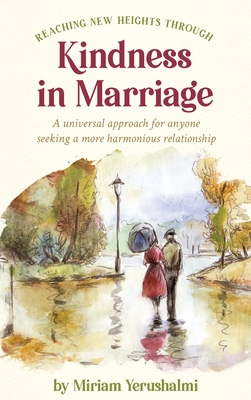 Reaching New Heights Through Kindness In Marriage: A universal approach for anyone seeking a more harmonious relationship
Out of Stock In Store (Click to Order)
Are you seeking to improve your marriage? Are you looking to understand yourself and your spouse better? Hoping to breathe new life into your relationship?
Marriage can be a "devouring fire," full of fervor, passion, and enthusiasm. Each partner can connect with the other and become attached with a bond so strong, to feel so beloved by the other and feel such a love for the other, that their unity creates within them the most eternal peace on earth, an internal serenity that manifests externally in all their ways.
Miriam Yerushalmi, a psychologist specializing in Marital and Family Counseling for over 30 years, presents proven Brain-Training techniques that can lead to greater marital and personal fulfillment. The information and strategies Miriam Yerushalmi offers here have been tried and tested by hundreds of her clients, by couples preparing for marriage as well as married couples whose relationships were at risk. Discover and learn how to develop the healing power of kindness, gratitude, patience, and forgiveness; the power of your imagination; how to model (and receive) respect, humility, and compassion; how to apply the essentials of positive parenting. Uniquely skilled at combining behavioral and humanistic approaches, Miriam Yerushalmi empowers readers with the tools to build a balanced and fulfilled life. Exercises and meditations on every chapter guide you as you work from the outside in and the inside out, to reach new heights of unity and love in your relationships.
Bonus Section: The Noahide Laws, an in-depth introduction to the timeless moral code that has been called "the bedrock of any civilization. ... If only the nations would adopt the seven Noahide Laws, this would be a very different world" (Rabbi Yisroel Goldstein, Chabad of Poway, CA, addressing the UN General Assembly, June 26, 2019). Miriam Yerushalmi's thorough explanation of these essential laws offers a new perspective on our interactions with the world around us, and enables us to bring ourselves and others to new heights of peace and kindness.
ISBN: 9780578552644
ISBN-10: 9780578552644
Publisher: Sane
Publication Date: 02/25/2020 - 12:00am
On Sale: 02/25/2020 - 12:00am
Pages: 270
Language: English
Categories