Seriously WTF is Wrong with Men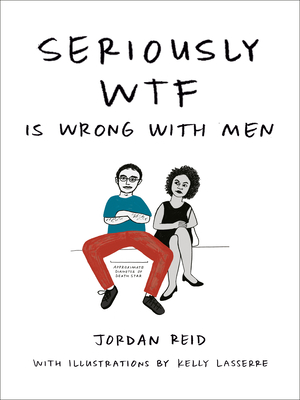 Seriously WTF is Wrong with Men
Out of Stock In Store (Click to Order)
A hilarious illustrated meditation on the question that runs through the mind of every woman who cohabitates with--or simply enjoys the company of--the opposite sex: Seriously, WTF is wrong with men?

If you've ever laid awake at night wondering why the man in your life seems physically incapable of moving a two-pound laundry basket 45 degrees in order to accurately deposit a pair of dirty socks (#literallywhy), you'll find succor in this lighthearted--but smart and savvy--collection of all those little stories that women share about their dudes.

From WTFs throughout history (like how Attila the Hun was so in love with his bride-to-be that he felt the need to destroy Italy en route to picking her up), to WTFs at home (Your Husband Put the Baby to Sleep: What's Wrong with This Picture?), to WTFs in the wild (Manspreading: A Diagram), Seriously WTF offers a compilation of positively eye-rolling conversations, illustrations, anecdotes, e-mails, text messages, and miscellany that will make women everywhere think, Yup. That.
Jordan Reid lives in Malibu with various kids and pets. She is the coauthor of the Big Activity Book series, and the founding editor of RamshackleGlam.com, where she writes daily about things she probably shouldn't. Jordan is, perhaps unsurprisingly, divorced.

Kelly Lasserre is a freelance illustrator and hand-letterer. Since receiving a BFA in illustration at the Maryland Institute College of Art, she has been creating drawings and paintings for various books, magazines, design studios, and commissioned art projects. Kelly lives in Philadelphia, where she works hard to keep her houseplants and herself alive and well.