Dr. Seuss's Every Voice Counts!: Make Yourself Heard!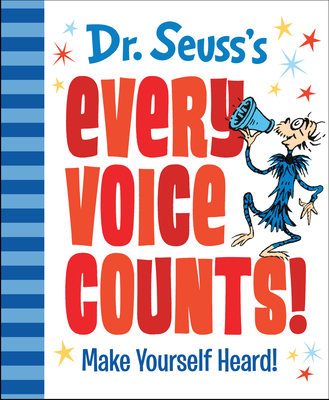 Dr. Seuss's Every Voice Counts!: Make Yourself Heard!
Out of Stock In Store (Available to Order)
Encourage someone to speak up for their beliefs with this small, hardcover giftbook featuring art by Dr. Seuss! An ideal choice instead of a greeting card, it includes unrhymed lines about using your voice to advocate for change!

Just as Horton the Elephant urged the Whos to raise their voices and save their world, this humorous giftbook urges readers to speak up and make the world a better place. Illustrated throughout with classic artwork from the books The Lorax, Horton Hatches the Egg, Horton Hears a Who!, and many others, the unrhymed text gently reminds readers of all ages that every voice counts, and that many voices combined together have the power to create change. It's the perfect small gift for encouraging an interest in advocacy, government, teaching, environmentalism, or just standing up for what you think is right.
Theodor Seuss Geisel—aka Dr. Seuss—is one of the most beloved children's book authors of all time. From The Cat in the Hat to Oh, the Places You'll Go!, his iconic characters, stories, and art style have been a lasting influence on generations of children and adults. The books he wrote and illustrated under the name Dr. Seuss (and others that he wrote but did not illustrate, including some under the pseudonyms Theo. LeSieg and Rosetta Stone) have been translated into 45 languages. Hundreds of millions of copies have found their way into homes and hearts around the world. Dr. Seuss's long list of awards includes Caldecott Honors, the Pulitzer Prize, and eight honorary doctorates. Works based on his original stories have won three Oscars, three Emmys, three Grammys, and a Peabody.