Our House Is on Fire: Scenes of a Family and a Planet in Crisis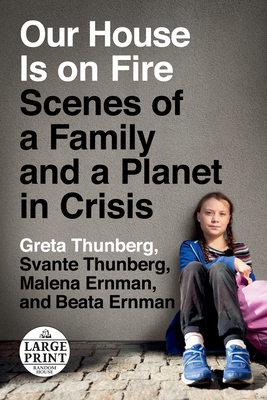 Our House Is on Fire: Scenes of a Family and a Planet in Crisis
Out of Stock In Store (Available to Order)
The story of how an unknown young girl in Sweden, with her family at her side, became the leader of an international movement

When climate activist Greta Thunberg was eleven, her parents Malena and Svante, and her little sister Beata, were facing a crisis in their own home. Greta had stopped eating and speaking, and her mother and father had reconfigured their lives to care for her. Desperate and searching for answers, her parents discovered what was at the heart of Greta's distress: her imperiled future on a rapidly heating planet.

Steered by Greta's determination to understand the truth and generate change, they began to see the deep connections between their own suffering and the planet's. Written by a remarkable family and told through the voice of an iconoclastic mother, Our House Is on Fire is the story of how they fought their problems at home by taking global action. And it is the story of how Greta decided to go on strike from school, igniting a worldwide rebellion.
Greta Thunberg is a climate crisis activist from Sweden. In August 2018, she decided not to go to school one day, starting a strike outside the Swedish Parliament. Her actions sparked a global movement to fight the climate crisis, inspiring millions of students to go on strike for our planet. Greta has Asperger's and considers it a gift which has enabled her to see the climate crisis in "black and white." She has won the prestigious Prix Liberté, has been nominated for a Nobel Peace Prize, and was selected as Time's Person of the Year in 2019. She is the author of the New York Times bestseller No One Is Too Small to Make a Difference.

Together with her mother, the celebrated opera singer Malena Ernman, her sister, Beata Ernman, and her father, Svante Thunberg, she has dedicated her life to protecting the living planet.