What You Think of Me Is None of My Business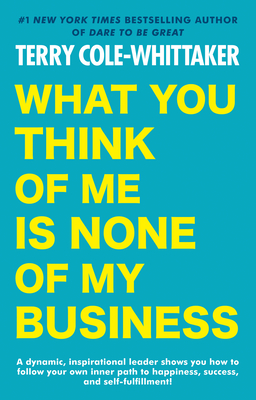 What You Think of Me Is None of My Business
Out of Stock In Store
You have a God-given right to happiness, wealth, and success. In this dynamic book by Reverend Terry Cole-Whittaker, you'll learn how to cast off the shackles of fear and false beliefs to discover your own inner path—the route to your inborn talents and limitless potential!
 
Explore your deepest feelings with self-awareness strategies and consciousness-raising exercises. Learn how to cope with physical, mental, and spiritual problems, involving love, money, risk-taking, relationships, guilt, self-reliance, self-image, sexuality, and more. It's all here in one astonishing book: the motivation, tools, and tactics to resolve personal conflicts—and change your life forever!
Terry Cole-Whittaker is considered to be one of the premier inspirational and spiritual teachers and empowerment speakers in the world. Her Emmy-winning television ministry, "With Love, Rev. Terry," aired on 400 stations, reached millions and inspired many to pursue a life of service, life-coaching, spiritual teaching, and healing. Dr. Terry's pioneering work opened the door for a plethora of motivational speakers, best-selling authors, ministers, and leaders to come forth and succeed, and her ministry outreach and bestselling books made metaphysical teachings part of mainstream America. Her positive methods have reached tens of thousands through classes, seminars, workshops, counseling, TV and radio.