She Persisted Audio Collection: Volume 1: Harriet Tubman; Claudette Colvin; Virginia Apgar; and more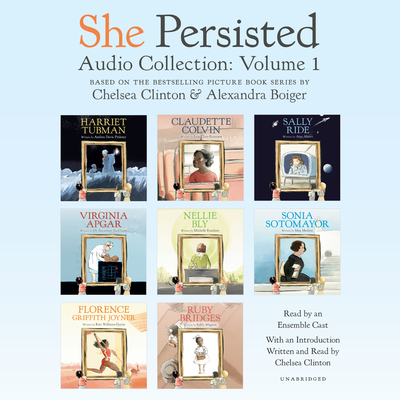 She Persisted Audio Collection: Volume 1: Harriet Tubman; Claudette Colvin; Virginia Apgar; and more
By Chelsea Clinton ,
Andrea Davis Pinkney ,
Lesa Cline-Ransome ,
Atia Abawi ,
Sayantani DasGupta ,
Michelle Knudsen ,
Meg Medina ,
Rita Williams-Garcia ,
Kekla Magoon ,
Contributions by Alexandra Boiger ,
Read by Bahni Turpin ,
Janina Edwards ,
Carolyn King ,
Tavia Gilbert ,
Various
Out of Stock In Store (Click to Order)
Inspired by the #1 New York Times bestseller She Persisted by Chelsea Clinton and Alexandra Boiger comes a chapter book series about women who stood up, spoke up, and rose up against the odds. Listeners can now enjoy the first eight biographies in one audio collection!


• She Persisted: Harriet Tubman by Andrea Davis Pinkney, read by Bahni Turpin
• She Persisted: Claudette Colvin by Lesa Cline-Ransome, read by Janina Edwards
• She Persisted: Sally Ride by Atia Abawi, read by Carolyn King
• She Persisted: Virginia Apgar by Dr. Sayantani DasGupta, read by Tavia Gilbert
• She Persisted: Nellie Bly by Michelle Knudsen, read by Rebekkah Ross
• She Persisted: Sonia Sotomayor by Meg Medina, read by Frankie Corzo
• She Persisted: Florence Griffith Joyner by Rita Williams-Garcia, read by Janina Edwards
• She Persisted: Ruby Bridges by Kekla Magoon, read by Janina Edwards

In each chapter book biography by an award-winning and/or best-selling author, listeners learn about the amazing life of an important woman--and how she persisted.

Includes an introduction written and read by Chelsea Clinton.
Chelsea Clinton is the author of the #1 New York Times bestseller She Persisted: 13 American Women Who Changed the World; She Persisted Around the World: 13 Women Who Changed History; She Persisted in Sports: American Olympians Who Changed the Game; Don't Let Them Disappear: 12 Endangered Species Across the Globe; It's Your World: Get Informed, Get Inspired & Get Going!; Start Now!: You Can Make a Difference; with Hillary Clinton, Grandma's Gardens and Gutsy Women; and, with Devi Sridhar, Governing Global Health: Who Runs the World and Why? She is also the Vice Chair of the Clinton Foundation, where she works on many initiatives, including those that help empower the next generation of leaders. She lives in New York City with her husband, Marc, their children and their dog, Soren. You can follow Chelsea Clinton on Twitter @ChelseaClinton or on Facebook at facebook.com/chelseaclinton.