Manifestation Journal Magick: Guided 369, 555, and Scripting to Manifest Your Dream Life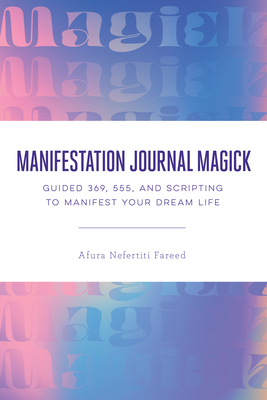 Manifestation Journal Magick: Guided 369, 555, and Scripting to Manifest Your Dream Life
Claim your destiny with a guided journal for manifesting and achieving your goals. Awaken your inner magick and channel it with 3 powerful manifestation techniques.

You have the power to actualize your passions and achieve your goals. Whether it's true love, the perfect job, or the freedom to be your true authentic Self, your dreams can manifest as your reality. The first step begins with Manifestation Journal Magick.

This guided manifestation journal empowers you with:



369, 555, and scripting manifesting methods to identify the manifestation techniques that resonate best with your unique energy
Tips for crafting potent intentions that unlock your intuitive power to attract life-changing experiences
Spacious journal pages with numbered lines for each manifestation technique and perfect for writing rituals
Beginner-friendly guidance for manifesting no matter your spiritual path or connection to magick
Afura Nefertiti Fareed is the founder and headmistress of Alchemy of Affluence Academy and the artist behind the Writing Witch shop. It's her mission to inspire drifting dreamers to harness the powers of witchcraft and personal development to manifest their most fulfilling lives. She believes magick is the power to write your own story, and alchemy is the art of transmuting your biggest perceived weaknesses into your greatest superpowers. She creates grimoire journal art and broadcasts the Alchemy of Affluence podcast from her New York home, where she lives with her cat familiar, Mowgli.