For the Love of the Bard (A Bard's Rest Romance #1)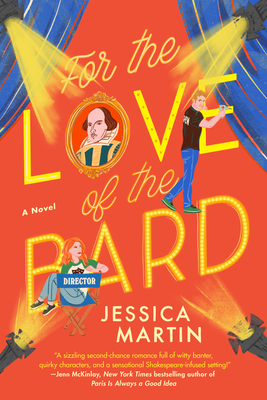 "Perfect to read on the beach." –The Boston Globe

To go for it or not to go for it? That is the question when two former high school flames return to their Shakespeare-obsessed hometown for a summer of theater and unexpected romance, in a laugh-out-loud rom-com from debut author Jessica Martin.

Literary agent and writer Miranda Barnes rolls into her hometown of Bard's Rest with one goal in mind: to spend the summer finally finishing her YA novel, the next installment in her bestselling fantasy series. Yet Miranda's mother, deep in the planning stages for the centennial of the town's beloved annual Shakespeare festival, has other ideas. 
 
Before you can say "all's fair in love and war," Miranda is cornered into directing Twelfth Night—while simultaneously scrambling to finish her book, navigating a family health scare, and doing her best to avoid the guy who broke her heart on prom night.
 
When it comes to Adam, the veterinarian with a talent for set design and an infuriating knack for winning over Miranda's dog, the lady doth protest too much. As any Shakespeare lovers knows, the course of true love never did run smooth, and soon Miranda realizes she'll have to decide whether to trust Adam with her heart again.
Jessica Martin is a lawyer by trade, a writer by choice, and a complete smartass by all accounts. Based in the suburban wilds of Boston, Jess shares her life with a finance geek, a small sass-based human and a pair of dogs named after Bond characters.