Christopher Paul Curtis 3-Book Boxed Set: The Watsons Go to Birmingham--1963; Bud, Not Buddy; The Mighty Miss Malone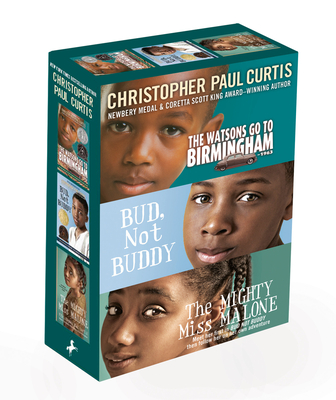 Christopher Paul Curtis 3-Book Boxed Set: The Watsons Go to Birmingham--1963; Bud, Not Buddy; The Mighty Miss Malone
Pre-Order (Not Yet Published)
From the Newberry Medal and Corretta Scott King Award winning author, three bestselling novels that have been called "a modern classic" by NPR and "marvelous" by The New York Times are now available in a boxed set!


Included in this set are three cherished and unforgettable books about Black family life, important moments in history, and dealing with tough situations with determination and humor: The Watsons Go to Birmingham—1963 features Kenny and his family on a road trip during the civil rights era; Bud, Not Buddy, a motherless boy on the run during the Depression (both books include special bonus content), plus The Mighty Miss Malone, which stars a character from Bud, Deza Malone, who is looking to get her family back together.

Christopher Paul Curtis won the Newbery Medal and the Coretta Scott King Award for his bestselling second novel, Bud, Not Buddy. His first novel, The Watsons Go to Birmingham--1963, was also singled out for many awards, and has been a bestseller in hardcover and paperback. His most recent novels for Random House include The Mighty Miss Malone, Mr. Chickee's Messy Mission, Mr. Chickee's Funny Money, and Bucking the Sarge.
Christopher Paul Curtis grew up in Flint, Michigan. After high school he began working on the assembly line at the Fisher Body Plant No. 1 while attending the Flint branch of the University of Michigan. He is now a full-time writer, and lives with his family in Windsor, Ontario.