The Young Countess: Book III of The Renaissance Brothers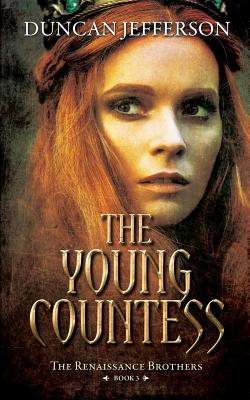 The Young Countess: Book III of The Renaissance Brothers
Out of Stock In Store
On the death of an Italian Cardinal, a young woman comes into an unexpected yet fabulous inheritance and her life promises to change forever. An ancient title, a vast estate and a fortune equal to a King's ransom seem a glittering prize but it's all far, far away from her simple life as a blacksmith's daughter in medieval Rome. Clare's inheritance sees her become the Duchess of Villeprieux near Paris in France, but she must get to her estates as fast as she can before her cousin usurps her title.
Once there, she finds herself alone facing the intrigues of the hostile French court of Louis XIV. The King threatens her with a forced marriage if she is to keep her title and her lands, and behind her back her conniving cousin Philippe constantly plots her downfall.
Deceit, kidnaping, betrayal, greed all seem a natural part of life at the Royal Court, how can one woman survive against such powerful men?
When all seems lost, help arrives from an unexpected quarter whilst a phantom figure from her childhood days brings both joy and despair. With her whole life in the balance Clare tries to plot a road to freedom, but dangers lurks everywhere.
ISBN: 9780648069478
ISBN-10: 9780648069478
Publisher: D Jefferson Pty
Publication Date: 06/11/2018 - 12:00am
On Sale: 06/11/2018 - 12:00am
Pages: 300
Language: English
Categories