The Architect of the New BJP: How Narendra Modi Transformed the Party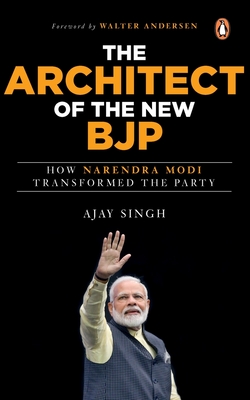 The Architect of the New BJP: How Narendra Modi Transformed the Party
Out of Stock In Store
In less than forty years of its existence, the Bharatiya Janata Party has become the world's largest political party and continues to go from strength to strength in Indian politics. Although its historic rise may seem organic to some, there is much internal deliberation and planning that has aided the growth of this 180-million-member organization.

The Architect of the New BJP uses in-depth research and concrete examples to explain how the BJP has transformed over the decades. It reveals lesser-known contributions, like Prime Minister Narendra Modi's experiments with traditional methods of party-building, his keen eye for detail and the different innovative methodologies to expand the party. Ajay Singh not only examines the past of the party, including the vision of its founders, but also provides a glimpse into the future of the party. Based on extensive interviews with many party workers, leaders and observers, this is the story of how the veterans of this cadre-based party, appreciating its limitations, developed a unique Indian model that eventually transformed the BJP into the election-winning machine it is today.
Ajay Singh is a journalist with thirty-five years of experience, having worked in various capacities - from reporter to bureau chief, political editor, editor and editorial director - with some of the top news organizations, including the Times of India, the Economic Times, the Telegraph, the Pioneer, STAR TV, Sahara TV, NewsX, Governance Now and Firstpost.

He has led two projects of immersive reporting that were supported by the London School of Economics and by the ANSA-SAR, a World Bank Institute-funded network. Working at the grassroots level in Lucknow and Patna, he was able to acquaint himself with the ground realities of the Hindi heartland and its political processes. Formal interactions, as well as informal discussions with some of the top leaders and administrators who have shaped modern India, have enriched his perspective on politics. He has closely followed the evolution and rise of the Bharatiya Janata Party from close quarters, having been present during many crucial moments in the party's recent history. Currently, he is the press secretary to the President of India.
ISBN: 9780670096961
ISBN-10: 9780670096961
Publisher: Ebury Press
Publication Date: 10/15/2022 - 12:00am
On Sale: 10/15/2022 - 12:00am
Pages: 288
Language: English
Categories