The Fire Next Time (Vintage International)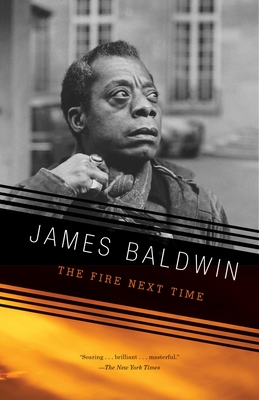 The Fire Next Time (Vintage International)
Likely On Our Shelves
NATIONAL BESTSELLER • The book that galvanized the nation, gave voice to the emerging civil rights movementin the 1960s—and still lights the way to understanding race in America today. • "The finest essay I've ever read." —Ta-Nehisi Coates

At once a powerful evocation of James Baldwin's early life in Harlem and a disturbing examination of the consequences of racial injustice, the book is an intensely personal and provocative document from the iconic author of If Beale Street Could Talk and Go Tell It on the Mountain. It consists of two "letters," written on the occasion of the centennial of the Emancipation Proclamation, that exhort Americans, both black and white, to attack the terrible legacy of racism. 

Described by The New York Times Book Review as "sermon, ultimatum, confession, deposition, testament, and chronicle … all presented in searing, brilliant prose," The Fire Next Time stands as a classic of literature.
JAMES BALDWIN (1924-1987) was a novelist, essayist, playwright, poet, and social critic. His first novel, Go Tell It on the Mountain, appeared in 1953 to excellent reviews, and his essay collections Notes of a Native Son and The Fire Next Time were bestsellers that made him an influential figure in the growing civil rights movement. Baldwin spent much of his life in France, where he moved to escape the racism and homophobia of the United States. He died in France in 1987, a year after being made a Commander of the French Legion of Honor.


Published by prominent writer and activist James Baldwin in 1963, this moving essay collection on the effects of racism is one of the most powerful books produced during the Civil Rights Movement. In 2022, a group of far-right activists in Clay County, Florida included it among a list of 2,000 books it claimed were "inappropriate." In compliance with a new Florida law, Clay County also revoked the rights of students to freely access library materials.