The Financial Diaries: How American Families Cope in a World of Uncertainty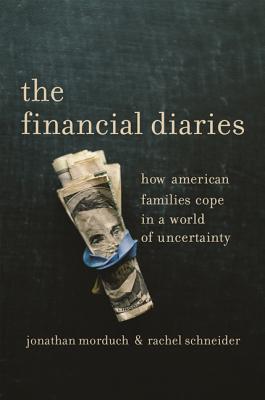 The Financial Diaries: How American Families Cope in a World of Uncertainty
Out of Stock In Store
What the financial diaries of working-class families reveal about economic stresses, why they happen, and what policies might reduce them
Deep within the American Dream lies the belief that hard work and steady saving will ensure a comfortable retirement and a better life for one's children. But in a nation experiencing unprecedented prosperity, even for many families who seem to be doing everything right, this ideal is still out of reach.
In The Financial Diaries, Jonathan Morduch and Rachel Schneider draw on the groundbreaking U.S. Financial Diaries, which follow the lives of 235 low- and middle-income families as they navigate through a year. Through the Diaries, Morduch and Schneider challenge popular assumptions about how Americans earn, spend, borrow, and save--and they identify the true causes of distress and inequality for many working Americans.
We meet real people, ranging from a casino dealer to a street vendor to a tax preparer, who open up their lives and illustrate a world of financial uncertainty in which even limited financial success requires imaginative--and often costly--coping strategies. Morduch and Schneider detail what families are doing to help themselves and describe new policies and technologies that will improve stability for those who need it most.
Combining hard facts with personal stories, The Financial Diaries presents an unparalleled inside look at the economic stresses of today's families and offers powerful, fresh ideas for solving them.
Jonathan Morduch is professor of public policy and economics at the New York University Wagner Graduate School of Public Service. He is the coauthor of Portfolios of the Poor (Princeton), among other books. Rachel Schneider is the Omidyar Network Entrepreneur-in-Residence at the Aspen Institute and a senior advisor at the Center for Financial Services Innovation.
ISBN: 9780691183145
ISBN-10: 9780691183145
Publisher: Princeton University Press
Publication Date: 01/29/2019 - 12:00am
On Sale: 10/16/2018 - 12:00am
Pages: 256
Language: English
Categories
Social Classes & Economic Disparity